£44 dice advent calendar lets you count down the d12 Days of Christmas
Features 24 dice, including a Christmas-themed set.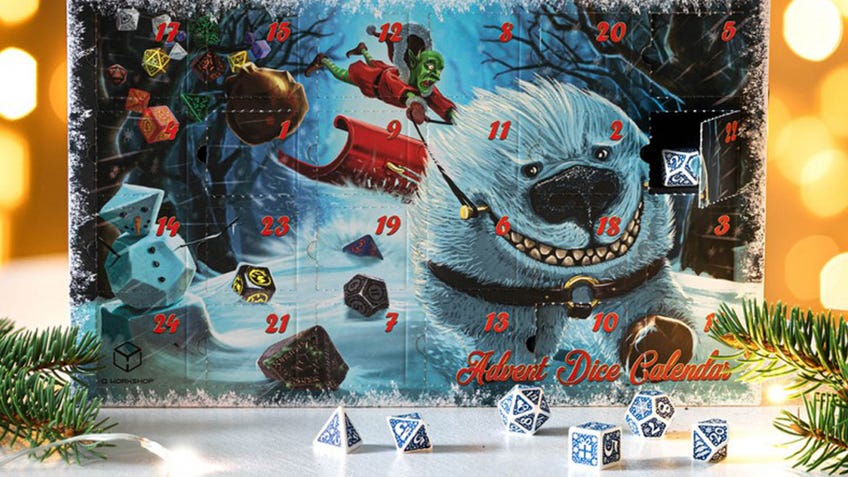 Dice maker Q Workshop has announced a Christmas advent calendar that swaps chocolate for crits.
The Advent Dice Calendar includes 24 individual dice to count down the month of December up to Christmas Eve.
Each window features a different polyhedral in a variety of shapes and colours. The advent calendar is said to include a number of brand new dice from the accessories maker, including a complete 'Santa's Dice Set' in an exclusive colour.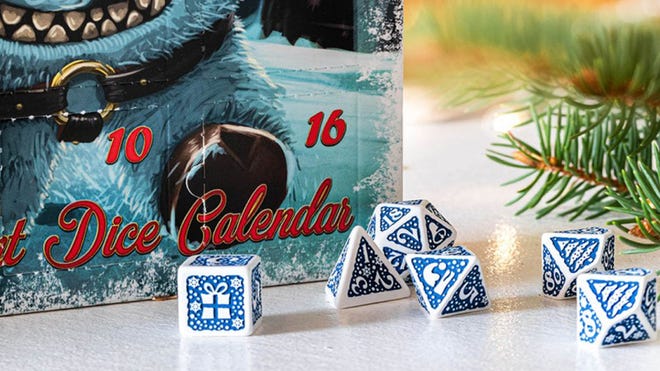 Images of the exclusive Christmas-themed dice set show a blue set of dice with a snow-like effect and pictures of presents, hats and other festive icons replacing the highest value on each die. The full set includes a d4, d6, d8, d10, d12 and d20.
While the majority of the dice are plastic, the final window hides a random metal die.
In keeping with the blend of Christmas cheer and tabletop theming, the calendar's artwork shows what appears to be a goblin Santa scattering a sack full of dice presents, as well as a fantasy creature replacing its reindeer and a snowman made of dice-shaped snow.
The advent calendar costs £44.28, making each die worth an average of £1.85 each.
The individual dice on Q Workshop's website range from £1.41 to just under a fiver each, though it's unclear what the odds are of getting a more expensive die - the advent calendar's description claims it's filled with "our best quality dice".
If it strikes your fancy, the Advent Dice Calendar is available now - and will presumably remain on sale until Christmas.