Dungeons & Dragons 5E adventure book from Baldur's Gate and Mass Effect creators gets retail release
Satyr your lust for questing.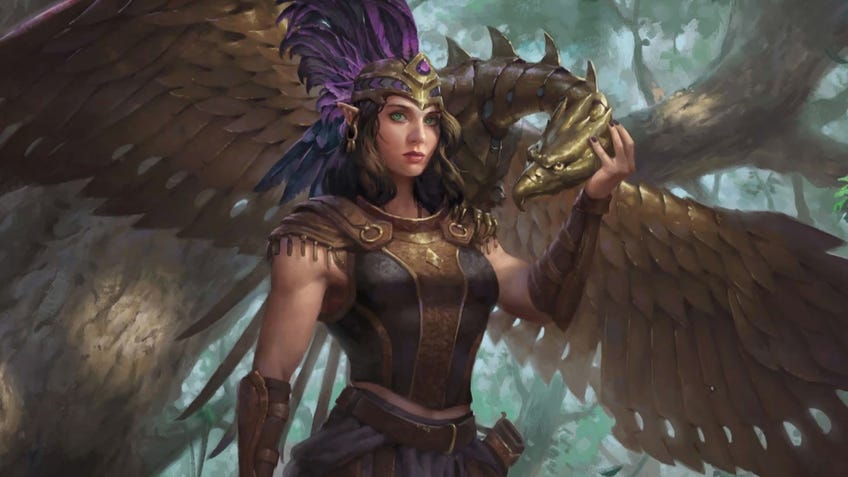 An adventure book supplement for Dungeons & Dragons 5E written by the lead designer of video game RPGs Baldur's Gate 1 and 2 has been given a retail release after a successful Kickstarter campaign.
Odyssey of the Dragonlords is a D&D 5E-compatible adventure book inspired by Greek myths and legends - much like Magic: The Gathering's Theros: Beyond Death set - that's set in the world of Thylea and the Forgotten Islands. A D&D 5E supplement designed to take characters from first to 15th level, Odyssey of the Dragonlords contains a complete campaign and various locations for players to explore.
Also featured in the adventure book are a selection of unique races - such as centaurs, satyrs and medusae - and classes, including Amazonian huntresses and philosopher wizards, derived from Greek mythology. The GM also gets access to a bestiary of classic monsters and a collection of magical items to put in their campaign.
Released alongside the hardback adventure book is a printable player's guide to Odyssey of the Dragonlords, which provides information about character creation and the epic paths system - a selection of personal motivations for players to give their character.
Odyssey of the Dragonlords originally launched on Kickstarter in 2019 and successfully raised over $450,000 (around £347,000). The writing team behind the supplement includes video game veterans James Ohlen - who worked on Dungeons & Dragons PC roleplaying games Baldur's Gate 1 and 2 - Star Wars: The Old Republic lead designer Jesse Sky and Drew Karpyshyn, lead writer for Mass Effect 1 and 2. Ohlen was recently hired by D&D creator Wizards of the Coast to head up a new studio focusing on new intellectual properties outside of Dungeons & Dragons and Magic: The Gathering.
Odyssey of the Dragonlords has since been acquired by Modiphius, the publisher behind Fallout: Wasteland Warfare and The Elder Scrolls: Call to Arms. Modiphius also recently announced it would be releasing a tabletop RPG based on the video game series Dishonored, which is set to come out sometime in Q2 2020.