Mutant: Year Zero, Blade Runner RPG maker asks for feedback on two royalty-free tabletop licences
Free League's Year Zero Engine will be "irrevocable, worldwide and royalty-free"
Tabletop RPG licence fever continues in the wake of Dungeons & Dragon's failed attempt to modernise the legal underpinning for third-party publishing. The publisher behind Mutant: Year Zero and the recent Blade Runner RPG wants feedback from the creator community on its two in-progress licences.
Free League first announced its intentions last month to create and publish two distinct publishing licences and an accompanying system reference document that, when combined, will cover virtually all the tabletop RPGs in its sizable portfolio. The Free Tabletop Licence will encompass the vast majority of RPG systems with a broadly permissive umbrella, while the third-party licence for the upcoming Dragonbane instead looks to create its own supplement ecosystem.
The timing of this announcement isn't without cause. Though Free League explains in a press release that the new licence initiative has been a work-in-progress since last year, the Open Gaming Licence fiasco "intensified" matters. The Sweden–based studio is even taking a page from Wizards of the Coast's playbook and soliciting open feedback from players and creators on the initial legal language presented in early drafts.
Watch on YouTube
The Free Tabletop Licence will be the most frequent document folks use when creating tabletop RPG material, as it contains the system reference document for Free League's Year Zero Engine - the mechanical foundation behind Mutant, Tales from the Loop, Vaesen and several other titles. The publisher has reportedly updated the SRD to include many of the recent new rules, changes and expressions, such as Blade Runner's step dice and guidance on vehicles, chases, travel and magic.
Reading through the draft language, the Free Tabletop Licence allows quite a bit of freedom. Creators are given an "irrevocable, worldwide, and royalty-free right to use" the YZE SRD (these acronyms do pile on) and publish their material wherever they choose. Free League won't own any part of it, and the creative works are protected just like anything else the creator owns.
In comparison, the Dragonbane third-party licence "allows creators to freely publish RPG supplements explicitly compatible with Dragonbane", which is the Sweden-borne tabletop RPG system receiving a mechanical and artistic overhaul this autumn. It claims to be one of the oldest titles in the space, and Free League hopes this particular licence, similar in nature to their Workshop community programme, fuels a rash of supporting supplements, adventures and other material.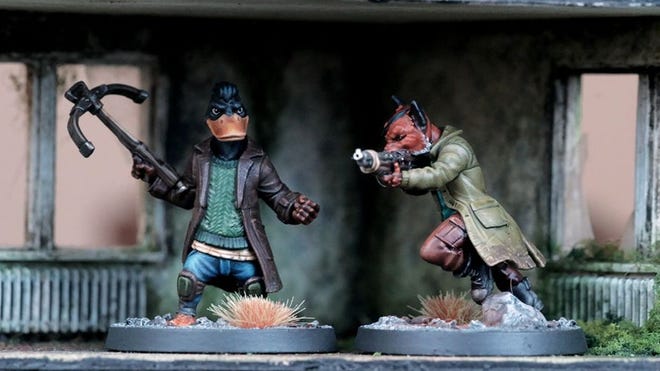 The Dragonbane licence isn't being designed to support standalone games or hacks, so Free League has no plans to release its own SRD. Creators will still be able to publish works wherever they choose, whether that's on Itch.io, DriveThruRPG, crowdfunding platforms or a print dedicated run. All they need to do is include a logo on the front cover denoting its use with the Dragonbane system.
Free League further states that it has no plans to implement royalty models for either licence. Much like the Mörk Borg third-party licence, the intent seems to be supporting community creation around a tentpole release. Given the relatively explosive rate at which Mörk Borg fans have created additional material, it might end up being a winning strategy.
Both licences will eventually be translated into multiple language, prioritising Swedish - given Dragonbane's origins. Those wishing to leave feedback can head to Free League's community forums and find the appropriate threads. A quick link to both the Free Table Licence and Dragonbane's third-party licence can be found here.