The One Ring studio is the latest RPG publisher to create its own open game licence in wake of D&D OGL turmoil
Free League "intensifies" development of Year Zero Engine and Dragonbane licences in response to Wizards of the Coast's planned changes.
Free League Publishing, the RPG publisher behind The One Ring, Tales from the Loop, Alien, Blade Runner and more, has revealed its plans to launch open game licences for two of its roleplaying systems.
Free League said that it had started work on the open game licences in 2022, but had "intensified" development in response to the ongoing discussion around planned changes to Dungeons & Dragons' OGL.
The first of Free League's open game licences will be a reworking of the OGL for the Year Zero Engine, which was originally based on the D&D OGL and powers a number of the studio's titles including Alien: The RPG, Tales from the Loop, this year's upcoming The Walking Dead Universe RPG and the titular Mutant: Year Zero, Free League's update to the long-running Mutant series. An earlier version of the Year Zero Engine OGL was released in 2019 after being crowdfunded as a stretch goal during the Kickstarter campaign for fantasy RPG Forbidden Lands.
Free League said the revised OGL would "give creators an irrevocable, worldwide, and royalty-free right to use Year Zero Engine Standard Reference Document (YZE SRD) and freely publish their own roleplaying material based on it".
As well as releasing a new OGL for the Year Zero Engine, Free League confirmed its SRD - which provides information on the gameplay elements and rules available for third-party creators to re-use - would see a "major overhaul" and be updated to include additional rule variants and detail on gameplay elements such as magic, vehicles, chases and travel.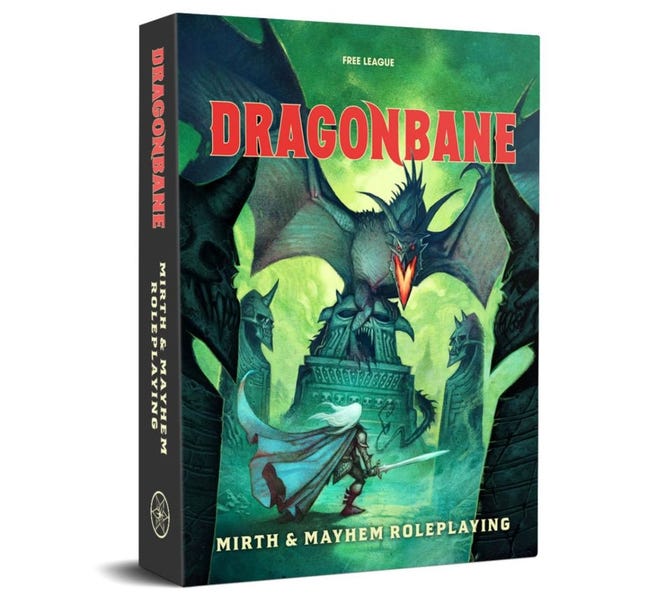 Free League's second OGL will be a brand new licence for Dragonbane, the studio's upcoming reboot of seminal 40-year-old Swedish fantasy RPG Drakar och Demoner.
The Dragonbane licence will be limited to third-party modules and supplements, stopping creators from making entirely new rulesets and standalone RPGs based on its system. There will be no Dragonbane SRD made available as a result.
Free League compared the licence to its Free League Workshop community content programme, which allows fans to freely create and sell third-party content for its games via RPG marketplace DriveThruRPG without owing royalties. The Dragonbane licence will allow sales via any platform, and creators will be able to say that their modules are compatible with Dragonbane via a dedicated logo.
Free League announced that both the Year Zero Engine Open Game Licence and the Dragonbane licence would be released "in the next few weeks". The studio added its expectation that its games explicitly built on D&D 5E - The One Ring spin-off The Lord of the Rings Roleplaying and Ruins of Symbaroum - would be able to "continue largely unaffected" in the wake of the proposed changes to the D&D OGL, but said it would "monitor the situation".
On Friday, after a week of near-silence, Dungeons & Dragons maker Wizards of the Coast released a response to the widespread criticism of a leaked OGL 1.1 reported to make significant changes to the Open Game Licence that allows third-party creators to freely use elements of D&D's gameplay systems in their own products. The update sought to assuage fears over the company's assumed control of creators' work via a licence back structure and rolled back apparent plans for royalty tiers over set earnings thresholds.
Despite Wizards' latest attempts to regain goodwill among publishers and players, a number of RPG publishers have already announced plans to break away from D&D's OGL and even launch their own alternatives to the framework. Among the most prominent is the Open RPG Creative License revealed by Pathfinder maker Paizo, in collaboration with major publishers including Call of Cthulhu studio Chaosium, designed explicitly as an effort to "irrevocably and unquestionably keep alive the spirit of the Open Game License".