One-page RPG collection The Most Tabletop Games per Square Centimeter squeezes 10 games onto a single sheet of A4
A tight contest.
A new collection of tabletop RPGs hopes to set a world record for the most playable games squeezed onto a single sheet of paper.
The fittingly-titled The Most Tabletop Games per Square Centimeter features 10 games created by designer Andrew J. Young, ranging from the Lord of the Rings-inspired sci-fi pastiche Who Gave the Halflings a Ray-Gun?! to other whimsical titles such as Fur and Loafing in Las Vegas, There Are 100 Zombies and How to Escape from Hell with Only Your Smartphone.
All 10 of the games, which play with between three and six people in around half an hour, fit onto a single page measuring 8.5 by 11 inches - around the same size as a standard sheet of A4. Even more impressively, a number of the games also somehow find space for artwork alongside their space-efficient rules.
"This seemed like a good use of my time," Young said. "I design very small roleplaying games (micro RPGs) as a hobby. It's a lot of fun, and I'm always excited when I hear about someone playing my games in the wild. With a collection like this, I'm hoping that there's something for everyone."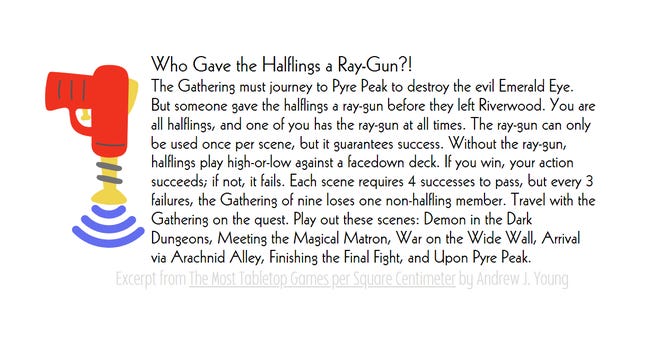 Young claims that The Most Tabletop Games per Square Centimeter sets a new record for, well, the most tabletop games per square centimetre, at 10 games in 448 cm2. His page for the collection leaves the challenge open for another designer to top that total.
Either way, you can grab all 10 games on the one-page collection for $5 over on Young's Itch.io page. A dyslexic-friendly version is also available, alongside a number of free community copies.