Queer We Go Again! is an LGBTQ+ sourcebook for Dungeons & Dragons
Be gay, do spells.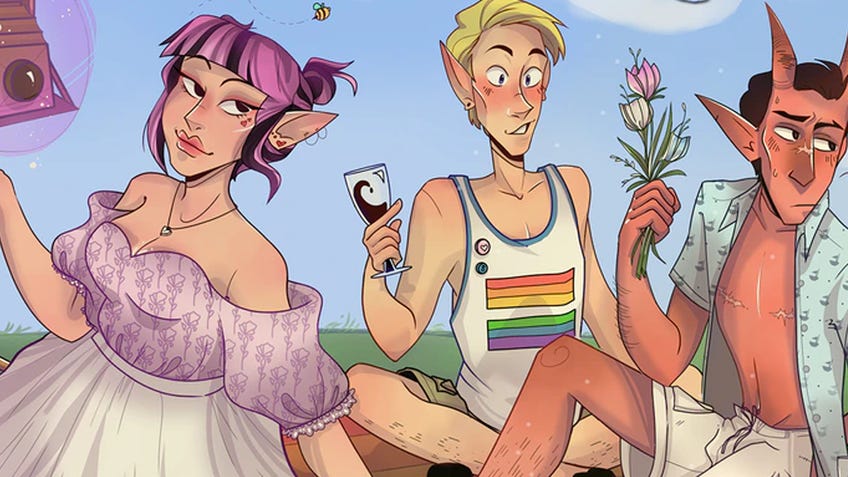 Meet a cast of queer characters in a fantasy world with Adventuring with Pride: Queer We Go Again!, a LGBTQ+ supplement for Dungeons & Dragons 5E.
A sequel book to Adventuring with Pride - a queer-oriented sourcebook containing adventures and characters designed to be used with D&D - Queer We Go Again! features more than 100 pages of content designed to tell LGBTQ+ stories within the framework of a roleplaying game. Queer We Go Again! includes three different playable characters to pick from - the gnome Warlock Missy, elvish bartender Xander and rebellious tiefling Kidd. Besides these three main characters, players will also be free to create and bring their own characters into the game as well.
These characters will be controlled by the players during one or more of the four storylines featured within the queer tabletop RPG, which all focus around the growing relationship between Yelena and Elfie. The two women are deeply in love with one another, but face a wide variety of obstacles and enemies that they must overcome - with the help of the player characters. Queer We Go Again!'s adventures include such scenarios as being invited to a tournament hosted by the Orc Lord Dirk, a holiday on a luxury cruise liner that's destined to go wrong and even the wedding of Yelena and Elfie themselves.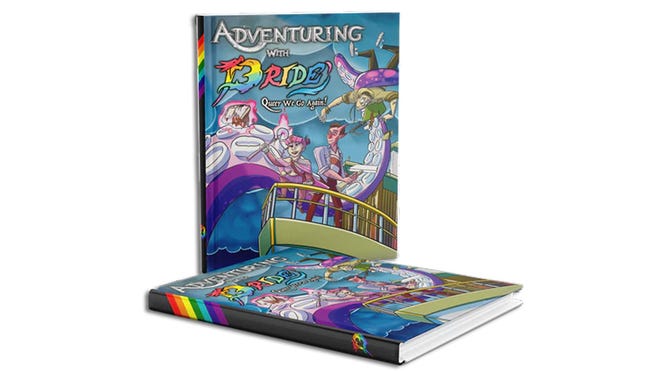 The three previously mentioned main characters have their own subclasses that begin at first level and run all the way up to level 20. Missy has the Influencer Warlock subclass which will give the player access to a new pact type, patron and other invocations. Xander is a Wizard of the School of the Barista and can concoct different brews, and Kidd's subclass is an Activist - part of the Fighter class - who can rally people to deal with enemies non-lethally.
Adventuring with Pride: Queer We Go Again! was created by Jack Dixon, the writer and designer behind the original Adventuring with Pride sourcebook. The artwork for the book was created by Alexiss (Joey) Eastman-Edmonds, Abbigayle Bircham and Jon Habens.
The Kickstarter campaign for Adventuring with Pride: Queer We Go Again! is live until June 30th, with a pledge of £25 ($) getting backers a copy of the supplementary book that's estimated to arrive sometime later this month. Alternatively, backers can pledge £10 ($) to get a digital PDF version of the book.
Whilst all the funds raised by the Kickstarter campaign will go towards production costs, 50% of ongoing sales for the Adventuring with Pride series will be donated to the LGBTQ+ charity Stonewall.