Five new Halloween tabletop RPGs inspired by horror cinema come collected in their own trick-or-treat bag
Game night just became fright night.
Maybe this is the American in me speaking, but one of the best things about Halloween is dumping your haul of sweets, candies and confections at the end of the night and marvelling at the sheer variety. Tabletop RPG designer Adam Vass has replicated that feeling in their Trick or Treat Suite, a collection of five new spooky season titles that come in their own goodie bag.
Vass is the name behind World Champ Game Co. and is no stranger to Halloween-themed games and RPGs that dabble in scaring their players. They previously released Babes in the Wood - a direct adaptation of Over the Garden Wall's autumnal tale - and the cosmic psychedelic horror RPG Necronautilus.
The Trick or Treat Suite, which is now available in print and digital via the World Champ Game Co. website, combines five of Vass' new titles - Stab: The Roleplaying Game, Ever Dream This Man?, Press Play, How To Summon A Spirit, and No Future - created specifically for this bundle and draw on a respectable range of horror cinema, from the Saw and STAB series to The Ring, Nightmare on Elm Street, Scream and more.
STAB: the RPG is the most direct adaptation in the bundle, even if the films it adapts aren't actually real. STAB is the in-universe, meta-referential series first introduced in Scream 2 that has since been a source of constant satire and send-up. This version allows four or more players to create their own grisly whodunnit where anyone can be a victim, suspect or even the slasher behind it all - the final reveal doesn't happen until the very end.
Ever Dream This Man? pits one to six players against an unknown threat haunting their dreams as they work together to identify and outsmart the demon before it picks them all off, one by one. Using a deck of tarot cards and bespoke playlist, the group will explore ever-changing dreamscapes and gradually piece together the identity of the Freddy Krueger-esque monster that wants them all dead.
Press Play draws on the legacy of found footage and video recording technology in the horror genre. Players use a die-drop mat (literally drop a handful of dice and chart the results) to explore haunted video footage that inexplicably links all of the players together in a web of mystery, suspense and unexplainable phenomena. If you like Channel Zero, Archive 81 and The Ring, this game will scratch similar itches.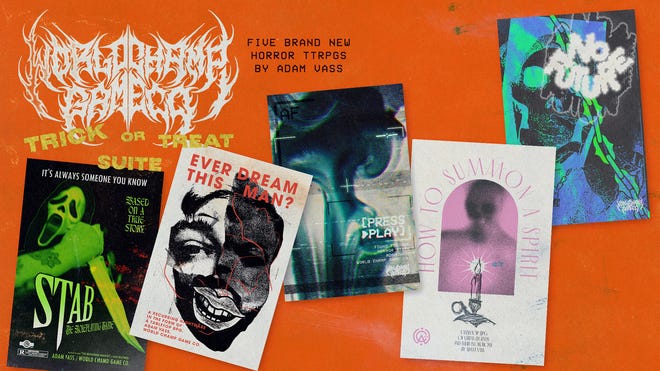 How to Summon a Spirit is a hack of the excellent Dialect, by Thorny Games. Players will use that RPG's system to create a shared horror mythology, complete with murderous rituals and dark pacts used to summon frightening entities into the mundane world. These ceremonies will change with the passage of time and spoken word, altering the words and implements used. Think of creating your own urban legends over time as real events pass into the realm of whispered rumours and warnings.
The last title in the collection, No Future, is a Carved From Brindlewood RPG about a collection of punks celebrating (or mourning) their small town's hardcore scene with one last night of bacchanal-esque antics, drinking and mayhem. The twist is that everyone is dying and reliving this night over and over, and the only way out might be through a pile of your own corpses.
"I love horror, I always have, and I love trying to dissect it and see all the fascinating ways in which stories are told and audiences are creeped out. There are so many different types of 'scared' and I wanted to explore them all, from the bloodiest to the most banal and everything in between. I spent most of this summer planning these releases so I could really bring some October scares to the tabletop realm," Vass said in a press release. This title also includes Heavy Steps On Hollow Ground, an RPG by Chris Bissette.
The Trick or Treat Suite can be purchased on World Champ Game Co.'s website and is available as a digital bundle (with a reduced price option) or a physical collection packaged in a tradition plastic trick-or-treat bag, which also contains an assortment of Halloween-appropriate plastic paraphernalia. Each RPG can also be purchased individually as printed zines.