Board Game Atlas wants to be a Metacritic for board games, review aggregator launching next month
Feature will include scores from "hand-selected" critics alongside existing user ratings.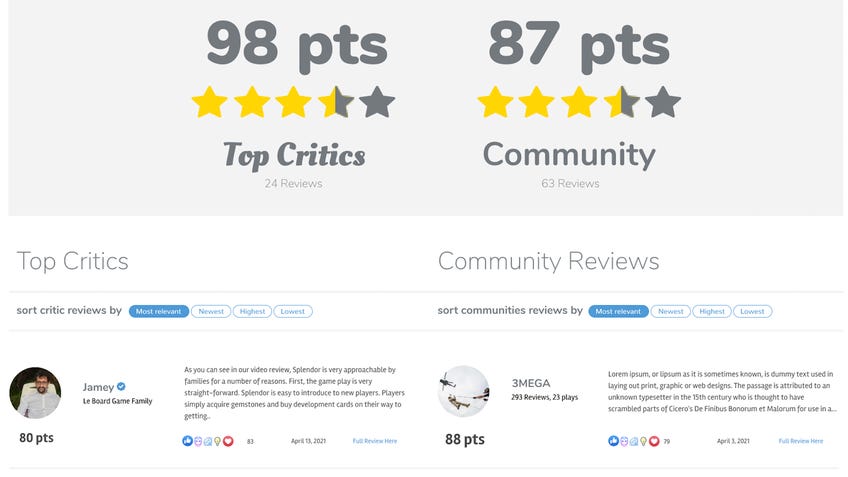 Board Game Atlas is launching a new review aggregation feature that will see the price comparison website offer a board game equivalent to video game, movie and music site Metacritic.
Launched in 2019, Board Game Atlas currently offers information about board game prices, deals and the funding level of Kickstarter campaigns, as well as community forums and articles.
The introduction of the review aggregator section will see the website collect reviews from a number of "hand-selected" board game critics and calculate an average score out of 100 for new releases, represented visually by a five-star rating.
The website already includes a five-star rating for each board game determined by users' scores, which can be accompanied by short text reviews. Like Metacritic, the user score will be displayed alongside the separate critic score, which will similarly accompany a short text summary.
The critic review feature will go live on May 15th, with Board Game Atlas currently offering open enrollment for reviewers to apply for inclusion alongside "key figures" that it has already partnered with.
Since its launch in 1999, Metacritic has become a fixture of the video game industry in particular, where it has faced criticism for its use of a 100-point scale - which is incompatible with some outlets' use of non-percentile scoring systems, or lack of numerical scores altogether - and lack of transparency surrounding the way it calculates the aggregated figure by weighting certain media outlets differently. Some video game publishers have also been alleged to use Metacritic scores to determine bonuses for developers and employees based on a game's critical reception.
Board Game Atlas has confirmed that it will not weight outlets' review scores differently. The eligibility criteria listed for application as a reviewer includes having a minimum of 4,000 followers across social media for print outlets and a minimum of 2,000 subscribers for audio and video reviews. According to the website's announcement blog post, outlets can include websites, YouTube channels, Twitter accounts, Twitch streamers and podcasts, as well as individual critics from those outlets.
"With any current platform, all reviews regardless of source are grouped together. It is hard to distinguish what is real or whose opinion you are listening to," Board Game Atlas' chief marketing officer Phil Ryuh said. "This new system would allow you to get a definitive answer from only the most trusted sources in the tabletop gaming community."