Classic board games White Bear & Red Moon and Nomad Gods are getting their first new editions in decades
Set in Glorantha setting of RPG RuneQuest.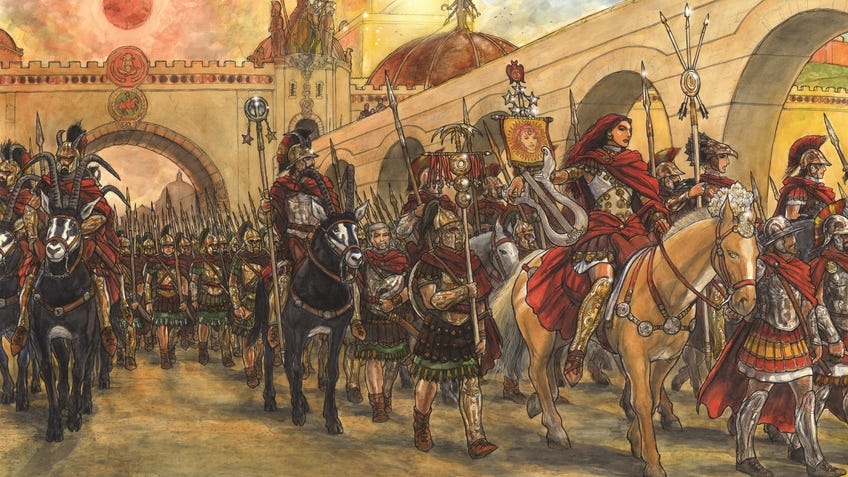 Two board games created by late RuneQuest designer Greg Stafford and set in the fantasy world of Glorantha are returning to print for the first time in several decades, with the potential for an unreleased third game in the trilogy to finally see the light of day.
White Bear & Red Moon was originally released in 1975 by Chaosium, the publisher founded by Stafford that would go on to release Call of Cthulhu and Stafford's RPG RuneQuest, which shared the mythological setting of Glorantha introduced in the wargame. White Bear & Red Moon was re-released in the early 1980s under the title of Dragon Pass, featuring revised rules for its strategic hex-based battles between the Lunar Empire and the nation of Sarta.
The later Nomad Gods was a spiritual successor to White Bear & Red Moon, putting players in control of tribes co-existing and clashing in Glorantha's Plains of Prax.
White Bear & Red Moon and Dragon Pass both saw their latest English editions more than 30 years ago, while Nomad Gods hasn't seen a physical reprint since its 1977 debut. A Stafford-endorsed digital version was released in 2012 via online platform Vassal, with Chaosium making the original rulebook available in PDF format in 2017 as part of its Kickstarter campaign for Glorantha-set cattle-rustling card game Khan of Khans, described as a family-friendly successor of sorts to Nomad Gods.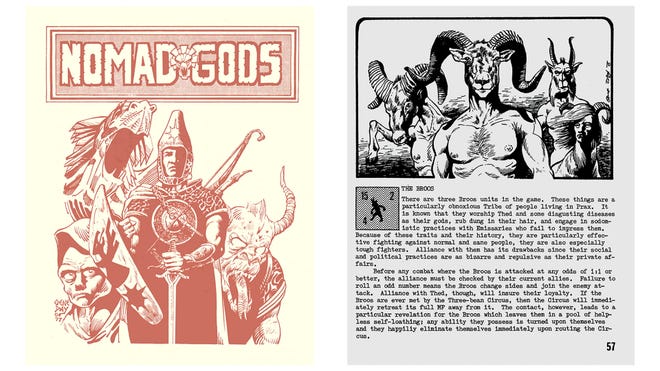 Dicebreaker has confirmed that Chaosium plans to release new editions of both White Bear & Red Moon and Nomad Gods, marking the first time either game will be available in a complete physical edition for multiple decades.
Chaosium board game line editor Susan O'Brien told Dicebreaker that the upcoming releases would "keep as much of the flavour of the original games as we can, while working on making the rules as clear as possible". The new instalments will feature revamped visuals, including cover artwork from Artesia illustrator Mark Smylie and cartography by Matt Ryan, alongside new maps and a revised ruleset based on "many, many hours of playtesting and note-taking".
"By modern board game standards, the production values of the original White Bear & Red Moon and Nomad Gods were pretty rudimentary," O'Brien said. "While Avalon Hill brought out a much fancier version of White Bear & Red Moon in 1984, titled Dragon Pass, the only English-language version of Nomad Gods is Greg's primitive original edition which came in a ziplock plastic bag.
"White Bear & Red Moon/Dragon Pass and Nomad Gods are played on maps that sit side-by-side, and this is an opportunity to give both games the production values they deserve."
Nine hours straight of playtesting today!—our board games editor Susan got Andrew to help put Greg Stafford's White Bear &Red Moon aka Dragon Pass through its paces.

[Here, the precise moment when Andrew's grand strategy, built around the phrase "release the Bat", fell apart...] pic.twitter.com/VWqVqMDEWH

— Chaosium (@Chaosium_Inc) January 11, 2021
Both board games take place during Glorantha's Hero Wars, a period of time after the events of RuneQuest. O'Brien said that the latest edition of the RPG, 2018's Roleplaying in Glorantha, had advanced the timeline so that the games would now depict the same era of the fantasy universe.
"With the release of the new Chaosium edition of RuneQuest, there is a new generation of RuneQuest fans getting into the world of Glorantha," O'Brien added. "White Bear & Red Moon is the foundation of RuneQuest and we want to make it available again."
Chaosium said that both White Bear & Red Moon and Nomad Gods are planned for release later in 2021. A company representative told Dicebreaker that it is yet to decide whether the games will be crowdfunded via Kickstarter or released directly.
O'Brien revealed that a third instalment in the trilogy, developed by Stafford but ultimately unreleased before the designer's death in late 2018, could finally see a full release if the new editions of the previous games prove successful.
"He'd planned a third game in White Bear & Red Moon and Nomad Gods series, called The Masters of Luck and Death," O'Brien said. "While he wrote copious design notes, and long ago some prospective counters were released for it, the game was never published.
"If our new editions of White Bear & Red Moon and Nomad Gods are a success, we'll certainly look at bringing out The Masters of Luck and Death too, a mere four decades after it was first announced."