New eBay rival promises Pokémon, MTG and Yu-Gi-Oh! fans an easier way to PSA grade and sell their valuable cards
Goldin Marketplace aims at more affordable collectables and casual traders by wrapping PSA authentication and storage into one process.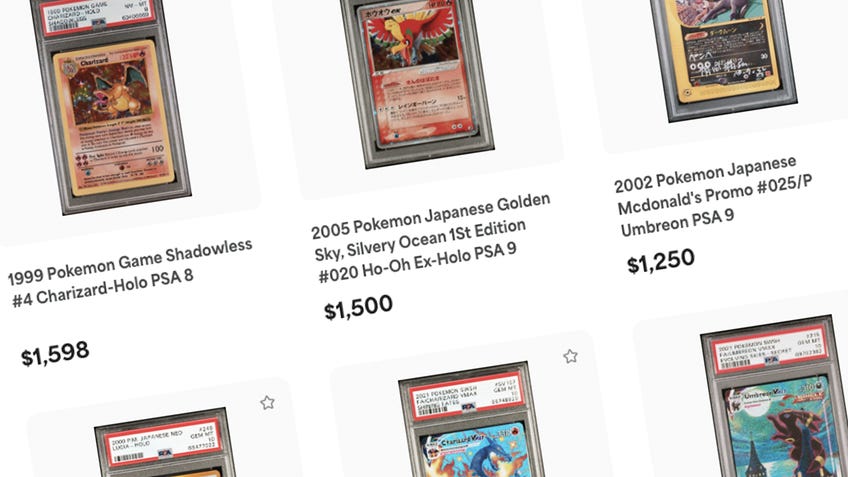 Auction house Goldin plans to take on eBay with its own online marketplace aimed at trading card collectors.
Goldin Marketplace will serve as a way for everyday collectors to list their items for sale via online public auctions - similar to eBay. As well as selling trading cards for games such as Pokémon, Magic: The Gathering and Yu-Gi-Oh!, the platform will host other pop-culture collectables ranging from comic books and sports trading cards to VHS tapes and toys.
Goldin hopes to set the platform apart from its rivals by including authentication from grading specialist PSA as part of the listing process, allowing sellers to have the condition of their collectables verified on PSA's 10-point scale. Sellers can also choose to store their graded items valued at over $100 via Collectors Vault, which provides physical storage alongside a digitised image collection.
Goldin was acquired by Collectors in 2021. As well as PSA, the collectables giant owns the Professional Coin Grading Service (PCGS) and video game grading company Wata, which attracted a lawsuit amid allegations of manipulating the retro game market last year. Last summer, Goldin launched its Grading with Goldin service, which aimed to grade trading cards within two weeks when listed for auction via the company, and Rip & Flip, an initiative designed to allow rapid listings of high-value cards pulled from booster packs.
As well as trading cards and collectables worth thousands of dollars - such as those worth over $5,000 sold via Goldin's Elite auctions - the new Goldin Marketplace will allow more affordable cards and items to be sold, with a minimum starting bid of $5.
Both buyers and sellers will be verified ahead of a sale, with items listed for auction shipping directly from Goldin as part of the combined grading, storage and sale process.
"There are too many pain points in collecting today," said Goldin CEO Ross Hoffman. "From authentication and grading, to listing, selling, communicating with buyers, getting paid and then shipping again.
"Collecting should be fun, and by eliminating friction we're making it a more enjoyable experience for everyone."
Several of the most expensive Pokémon cards of all time to appear at auction have been sold via Goldin, including a Pikachu Illustrator sold for $900,000 in February 2022 and an autographed promo card featuring Pokémon studio founder Tsunekazu Ishihara sold for nearly $250,000 in 2021.