'Incredibly rare' Pokémon card signed by studio founder sells for almost $250,000
Ishihara GX sets a new record for most valuable Pokémon card from 2017.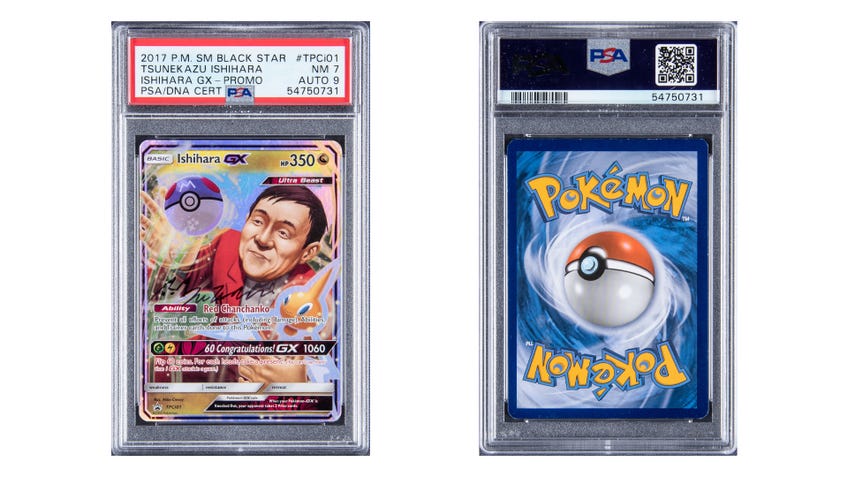 A Pokémon card depicting and autographed by the president of The Pokémon Company has sold for almost $250,000 at auction, becoming the latest high-value card from the trading card game to fetch thousands of dollars.
The card featuring Tsunekazu Ishihara was produced and given to The Pokémon Company employees to mark the executive's birthday in 2017. Ishihara is the current president of The Pokémon Company - the firm responsible for managing the entire brand of video games and its related spin-offs - as well as the founder of original Pokémon Trading Card Game studio Creatures, Inc.
Ishihara served as producer on the original Pokémon Red and Green video games, as well as later instalments Yellow, Gold and Silver, as well as contributing to the development of spin-off titles including Pokémon Snap, Stadium and Pinball. He also played a key role in the creation of Pokémon Go, the augmented reality mobile app that boomed in popularity following its release in 2016.
The 2017 P.M. SM Black Star #TPCi01 Tsunekazu Ishihara Signed Pokémon GX Promo Card, to give the card its full name, depicts Ishihara throwing a Master Ball while holding the electric-ghost Pokémon Rotom.
The card's ability Red Chanchanko - a reference to the sleeveless red vest traditionally worn by those celebrating their 60th birthday in Japan - prevents all effects of attacks, abilities and trainer cards on the card. Its 60 Congratulations! GX move reads: "Flip 60 coins. For each heads, take a present!"
The Ishihara Pokémon card sold for $247,230, having gone under the hammer with a starting price of $500. The card was graded at NM 7 - signifying 'near mint' condition - by card grader PSA. The card is signed by Ishihara himself, with the autograph graded at 9 (out of 10).
While the price doesn't make the card the most expensive Pokémon card ever sold at auction - that honour goes to a Blastoise sold earlier this year for $360,000 - Goldin Auctions, which sold the "incredibly rare" card, claims that it does set a new record for the most valuable Pokémon card from 2017.