Monopoly maker exec imagines a future where board games sport "AI-driven game mechanics"
Chat GPTabletop.
A recent business partnership between Hasbro, the massive toy corporation responsible for Monopoly and Dungeons & Dragons, and an Italian tech company will apparently prepare a future for AI integration into board games.
The recent press release detailing Hasbro's "strategic partnership" with Xplored doesn't seem like much on its face beyond a by-the-numbers partnership to put more of the former's hardware in the latter's plastic collectibles, toys and games. One choice quote from Adam Biehl, senior vice president and general manager of Hasbro Game, changes that.
"As the global leader in tabletop games, we envision a future where technology seamlessly integrates into analog gaming experiences and working with Xplored enables us to deliver innovative gameplay to our players and fans, limitless digital expansions to physical games, seamless onboarding, and powerful AI-driven game mechanics," Biehl said.
The mention of artificial intelligence at the end of the quote could be nothing more than a flag ambitiously planted by a C-suite executive with a pet project, but the former two directives aren't pie-in-the-sky dreams - especially considering more closely their new partner.
Xplored is the name behind Teburu, a platform that intertwines cutting-edge digital technology with the latest trends in tabletop gaming. Bearing the unfortunate "phygital" moniker, board games such as The Bad Karmas and Sword & Sorcery are signing bold checks to players by promising social features, MMO-esque connected worlds and, as mentioned in an interview with Dicebreaker, AI-driven opponent behaviors.
The folks behind Xplored sound like believers in their own product, assuring players that digital technology is there to enhance the experience at the table and not divorce baord games from the tangible feel of components and cards. That said, Hasbro has a history of flirting with the cutting-edge technology du jour - their tryst with NFTs fizzled out as the popular perception turned on crypto ponzi schemes, and the company was all too happy to memory hole their previous interest.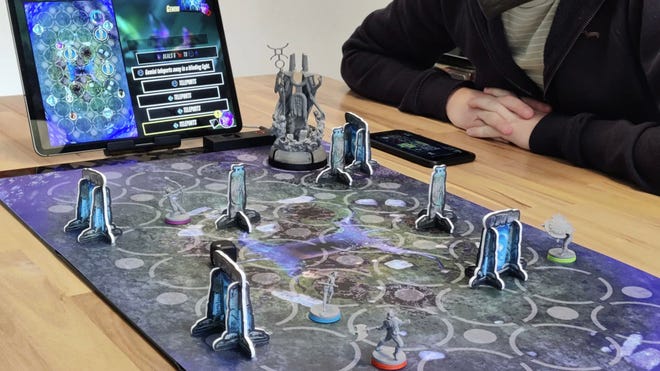 What do "AI-driven game mechanics" look like? Xplored would likely point towards more realistic in-game competition and behind-the-scenes decision making that allows players to focus on the action in front of them instead of a deck of behaviour cards or a rules sheet. They want board games to feel more like a video game with meeples and tokens instead of a controller.
But the current SAG-AFTRA and CWA strike paint a more dire possibility, as Hollywood executives have increasingly pointed to AI-written scripts as a potential future for the television and film industry - a choice that would maroon creative workers in unemployment and professional obscurity. Hasbro has spent the last few years rubbing elbows with the film industry via Honour Among Thieves. Toss in the well documented C-suite urge to chase the latest Silicon Valley golden goose (hello, Kickstarter and blockchain) and it's not difficult to imagine Monopoly spin-offs designed by an AI algorithm filling the shelves of retail chains.
Ultimately, we will have to wait to see how this shakes out. Teburu is still an early days technology, and this might end up being a flash-in-the-pan dalliance or a single mention to satisfy shareholders. As in other fields, we need to be cautious that new technology is used to improve the lives and labour of designers and players, not cut out extraneous intermediaries between our wallets and Hasbro's coffers.