UK board game studio that made over £1m on Kickstarter accused of unpaid staff and missing pensions
Inside the Box's own Kickstarter account demands payment for former employees after being hijacked by disgruntled workers.
The UK board game studio behind crowdfunding success stories Sub Terra and Alba has been accused by former employees of unpaid wages, missing pensions and redundancy pay - with the criticism aired via the company's own Kickstarter account.
Inside the Box Board Games is best known for Sub Terra, its co-operative cave-crawling board game that crowdfunded over £368,000 from more than 6,600 backers in early 2017. A sequel, Sub Terra II: Inferno's Edge, raised almost £292,000 from 3,500 backers in early 2021.
Inside the Box's most-backed project to date is Alba, an ambitious open-world adventure gamebook that was funded by over 10,000 supporters in February 2021, raising close to £273,000. In total, Inside the Box's eight successful Kickstarter projects - which also include dystopian deduction game NewSpeak and political card game Statecraft - have raised over £1.1m to date.
Both Sub Terra II and Alba are yet to see copies sent to Kickstarter backers, joining two other projects that are reportedly yet to be delivered: underwater worker-placement board game Aquanauts, funded in April 2020, and story-driven puzzle game Crypt X, funded in July 2019. In a January 28th update, Inside the Box CEO Peter Blenkharn wrote that "progress has been made" on shipping and fulfilment, saying that more information would follow by the end of February.
Inside the Box's own account was seemingly accessed by a disgruntled former employee later that same day to direct a message at Blenkharn, claiming that staff were owed "thousands" in unpaid wages, pensions and redundancy.
In a separate update post entitled "PAY YOUR EX-EMPLOYEES PETER" posted to the Alba, Sub Terra II and Crypt X Kickstarter pages, Inside the Box's Kickstarter Creator account wrote: "Peter still owes his employees wages, missing pension and redundancy."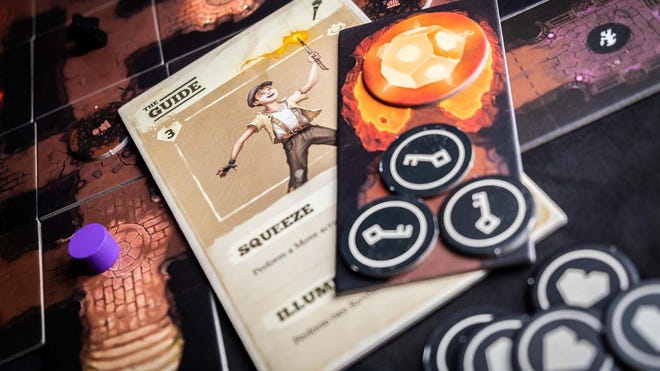 In the comments sections for the campaigns, the company account posted a follow-up message claiming to be from a former employee: "Ex-employee here. He still owes us missing pensions, wages and redundancy. We're all out of thousands. He's completely refused to communicate with us. He shouldn't be allowed near another business.
"He'll probably change his password soon, but please spread the word about this disaster. I feel for everyone here. Peter, grow some balls. You're a mess."
As of February 2nd, the update posts and comments remain live on the Kickstarter pages.
Dicebreaker reached out to Inside the Box and Blenkharn for comment in response to the claims, but did not hear back before publication.