Zenobia Award returns to highlight more underrepresented creators in historical tabletop design
The annual award and mentorship programme was founded in 2020 by Root creator Cole Wehrle and a team of historians and game designers.
One of the newest and highest profile awards in historical tabletop designs returns for its second year of spotlighting underrepresented talent. Applications for the Zenobia Awards are open now through October 14th for a chance at mentorship and resources to finish a work-in-progress title.
The Zenobia award was founded in 2020 by Root, Pax Pamir and John Company designer Cole Wehrle and Christienne Hinz, associate professor of history at Southern Illinois University Edwardsville, along with many other designers and historians. Wehrle has since stepped away from the judging board and Hinz is now director, but the award continues its original goal of discovering and fostering new talent outside the usual white and Western cultural lens applied to historical gaming.
Applicants are encouraged to submit prototyped historical tabletop titles (board games, wargames, card games, etc.) that aren't yet signed to any publisher or otherwise in the process of production or design refinement. The judging board encourages submissions in any language or state of creation, as long as they can understand the rules well enough to roughly play through the game - or at least one scenario - and understand the rules.
Named for a third-century queen of Palmyra who attempted to wrest control of the Roman Empire, the Zenobia Awards ascribes to the Derby House principles in its goals to diversify and increase inclusion amongst the wargaming and tabletop hobbies. Borrowing the moniker of the Western Approaches Tactical Unit, a group of women and men deemed unfit to serve in World War II due to injury and illness that - according to the Zenobia council - "conducted some of the most consequential wargaming in the history of armed conflict," these principles opposes discrimination while adopting a progressive, ever evolving set of values.
Previous years' winners include Akar Bharadvaj's Tyranny of Blood, which frames India's changing social structures under decades of British colonisation and the fallout of that historical occupation. Another high-profile board game, Molly House, was shortlisted by the Zenobia Awards before Wehrlegig Games picked it up for publication under the Werhle brothers' own attempt to lift up independent historical game designers across the world. Rising Waters, which covers destructive flooding of the Mississippi River and communal efforts to resist it, also rose out of the Zenobia incubator.
Contestants need to be from underrepresented sociopolitical, cultural and gender groups or feature one member of their design team from such categories. The submitted design must be themed after a period of human history or tackle a specific political, social, cultural, scientific, economic or military topic. The design should be an analogue game with "a closed-system rules set that does not rely on role-play or referee adjudication to resolve actions and reactions," according to the official rules. Sorry, historical LARPS and megagames - this is not the award for you.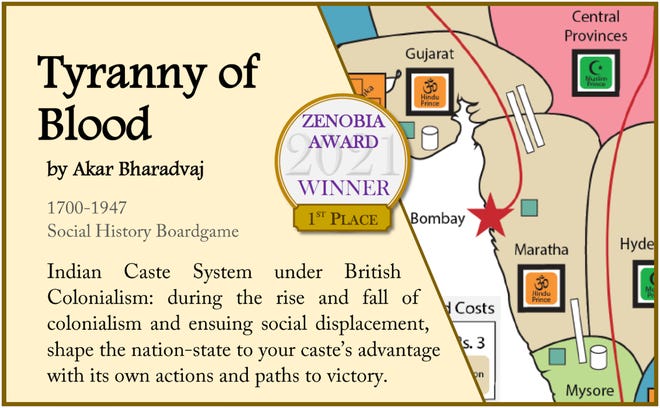 Once the judges have chosen their finalists, the designers will be paired with a mentor and be given access to Zenobia's resources and tools to further hone their titles before the final judging. In this way, every selected finalist will be given a chance to prepare their board games for submission to larger publishers after the competition is over. Only one winner will be chosen, but the council wants to see every chosen game eventually find success and an audience of players
More information about the Zenobia Awards, submission criteria and its panel of judges and mentors can be found on their website - which also contains a link to the 2023 application form. Game designs can be submitted not through October 14th for this year's award and mentorship program.