'Arena battle' board game from Magic: The Gathering creator on the way from newly-renamed Star Realms studio
Wise Wizard Games also details prequel title Rise of Empire and two new deckbuilding games.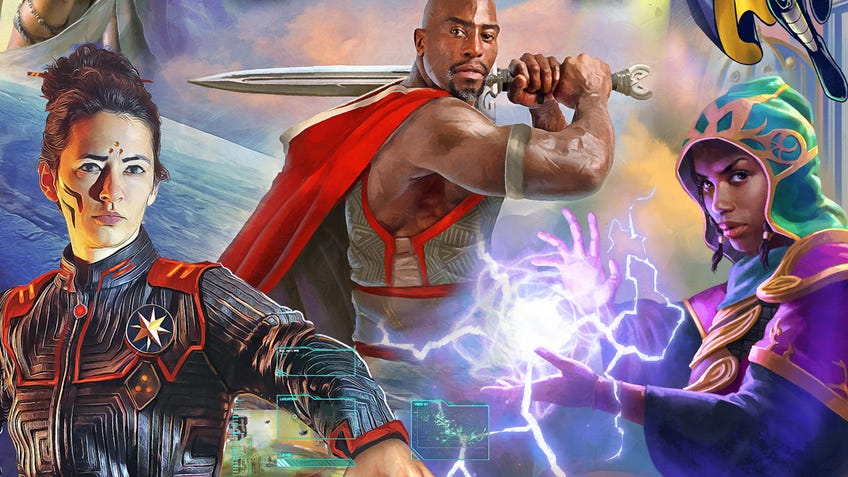 Richard Garfield, the designer behind Magic: The Gathering, has designed an upcoming 'arena battle' board game called Riders of Chaos set to be released by Star Realms publisher Wise Wizard Games.
The new title was announced alongside the company's recent name change in a blog on its website, wherein the COO of the previously-named White Wizard Games - Debbie Moynihan - revealed that the studio has since updated its name to Wise Wizard Games in response to "feedback from the community".
The exact community feedback remains unclear, but the company's Twitter account claimed that the original name's reference to Gandalf from The Lord of the Rings wasn't hitting audiences in the desired way: "Not everybody got the Tolkien reference so we wanted to create a new name that everybody could get on board with."
New name, who's this?

Same team, same awesome games! New name, new games upcoming! 👀

Check out our brand new webpage: https://t.co/zbWu6PpPOu pic.twitter.com/gdL26dOtDe

— Wise Wizard Games (@wwizardgames) March 15, 2021
The blog also revealed that Wise Wizard has a series of new releases in the works, including the aforementioned Riders of Chaos. Garfield's upcoming game is an 'arena battle' board game that has players competing against one another in an intense fight between warriors mounted on beasts. The title will allow players to pick between their character and beast, as well as perform various combos using the game's miniatures.
More details surrounding the previously announced Star Realms: Rise of Empire - a prequel title to the expandable card game series - were also revealed in the recent blog. The title will transport players to a time before the Star Empire's dominance in a "legacy-style game" that will result in players gaining a playable set featuring several new factions.
Two additional titles were also revealed by Wise Wizard, which look to provide players with either a sci-fi or fantasy-focused deckbuilding experience.
Robot Quest Arena is a board game that has players using their decks to pilot a battle bot miniature to destroy their opponent's robots and acquire new upgrades. Any destroyed bots are respawned at the beginning of each round, meaning that players can expect to experience very little downtime.
Whereas Hero Realms: Dungeon of Thandar is a spin-off from the fantasy deckbuilding game that includes elements of a dungeon-crawling board game, with players venturing into a lair as a party to challenge various bosses and their minions in order to gain experience, skills, treasure and fresh equipment along the way.
Besides the Star Realms series, Wise Wizard is best known for publishing the 2019 board game Sorcerer that sees players using their decks to perform magic - such as summoning minions, casting offensive spells or enchanting items - against their opponent in an effort to prove the potency of their lineage.
Riders of Chaos, Star Realms: Rise of Empire, Robot Quest Arena and Hero Realms: Dungeon of Thandar are all yet to receive release dates, with Wise Wizard set to reveal more information on the upcoming games soon.