Watch Dicebreaker play Shut Up & Sit Down (and you!) in a live game on stage at PAX Unplugged 2019
Johnny, Lolies and Wheels face Matt and Quinns.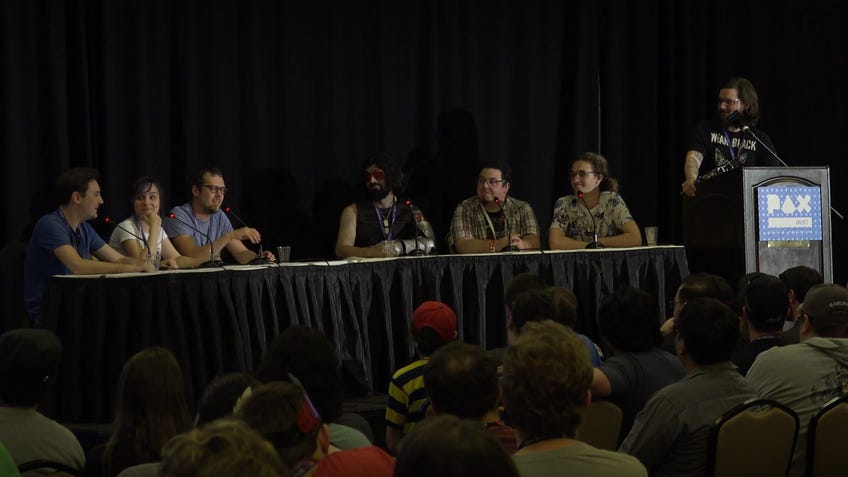 It's the most ambitious crossover event of the year. Forget all that comic-book nonsense. We're talking Dicebreaker and Shut Up & Sit Down meeting in an epic showdown of board game websites on that ultimate of battlefields: the tabletop itself.
Of course, it's all friendly fun and games really. We're delighted to say that Johnny, Lolies and Wheels from the Dicebreaker crew will be taking on Matt and Quinns from SUSD in a live game at PAX Unplugged 2019. The competition will be FRIENDLY, the action ENTERTAINING and the puns QUESTIONABLE.
The Dicebreaker X Shut Up & Sit Down gang will also be looking to get the audience involved in their tabletop shenanigans, so head along to the Mothman Theatre at 10am on Sunday 8th December for your chance to prove how bad we are at games in front of hundreds of people. Is there a better way to start the day?
If you can't make it to PAX Unplugged, no need to feel left out. The lovely folks at PAX will be streaming the panel live to Twitch, so you can watch from the comfort of your own home (and we can't hear you saying, "I wouldn't have done that.") You can find the stream below - it'll go live at 10am EST.
Watch live video from PAX2 on www.twitch.tv
If you are at PAX Unplugged, this isn't the only exciting thing we have happening over the weekend. In fact, we've got three days full of exciting things!
On Friday December 6th at 10am in the Crab God Theatre, Dicebreaker's Matt will be chatting to designers of the moment Cole and Drew Wehrle about Pax Pamir, John Company and their new publisher Wehrlegig Games.
On Saturday December 7th at 6pm in the nearby McGillen's Old Ale House, the Dicebreaker team will be holding a laidback community mixer - so come along, meet the team and maybe play some games!
After the Dicebreaker and Shut Up & Sit Down live game on Sunday morning, the Dicebreaker team will be finding a space in the open gaming area to plonk down for a couple of hours between 2pm and 4pm. Come find us to play some of our favourite games with us and see out the weekend the only way we know how - playing games.
(Full disclosure: PAX Unplugged is an event run by ReedPOP, which owns Dicebreaker parent Gamer Network.)