Tabletop Awards 2023 return to celebrate the year's best board games and RPGs: nominations and People's Choice voting open now!
With designer and publisher categories for both established and up-and-coming talent, as well as a new award for Best Art.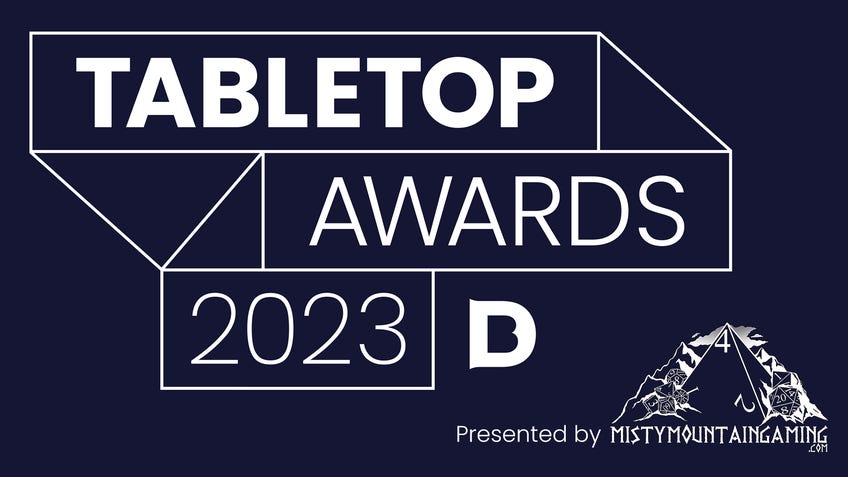 The Tabletop Awards are back to celebrate and recognise the greatest games, creators and talent that the tabletop industry has to offer. Publishers and designers can nominate their games for consideration now, with members of the public able to vote for our People's Choice award. The Tabletop Awards 2023 are presented by Misty Mountain Gaming.
Held for the first time in 2022, the Tabletop Awards are an annual set of awards that look to highlight the outstanding board games, tabletop RPGs and card games released over the last 12 months, as well as the teams and individuals behind them.
Reflecting Dicebreaker's commitment to championing groundbreaking tabletop experiences and creators both big and small, the Tabletop Awards recognise games across a wide spread of categories, along with both established and emerging creators.
Last year's inaugural awards included winners such as groundbreaking tabletop RPG Coyote & Crow, which was named Best Roleplaying Game, with its Indigenous-led studio Coyote & Crow Games awarded Rising Star: Publisher.
Adorable dragon-trader title Flamecraft was named Best Board Game, while the Everfest set for trading card game Flesh & Blood took home Best Ongoing Card Game.
Jiangshi: Blood in the Banquet Hall RPG co-creator Banana Chan was named Designer of the Year, joining Rising Star: Designer winners Lottie and Jack Hazell, creators of board game Dog Park. The One Ring 2E and Alien: The RPG maker Free League Publishing claimed Publisher of the Year.
In addition to those awards decided by a jury of industry figures - including journalists, content creators, designers, publishers and artists - the public-voted People's Choice award selected Austin Ramsay's mech RPG Beam Saber as its first recipient.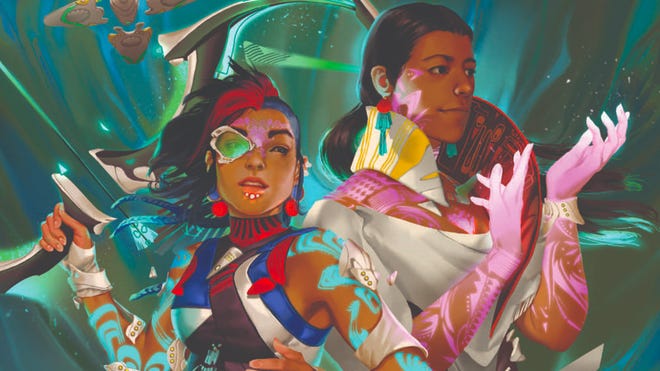 This year's Tabletop Awards will see the return of last year's categories spanning board games, tabletop RPGs, ongoing card games and both designers and publishers, with the addition of a brand new category that will recognise the Best Art in a tabletop release from 2023. (Games that utilise AI art will not be eligible for nomination.)
Publishers, designers and artists can nominate their games, themselves and their companies for the Tabletop Awards 2023 using the nomination form below. The form can also be found here. Details and nomination criteria for each award category are listed below.
Nominations for the Tabletop Awards 2023 will close at 00.00 BST on Monday, October 16th. Please contact awards@dicebreaker.com with any enquiries.
Once nominations have been determined, our panel of industry judges will determine a shortlist of finalists based on the nomination statements provided. Once those finalists have been determined, a second and final round of voting will decide the overall winner in each category.
Voting for this year's People's Choice award - which will be selected based on public votes rather than our jury's deliberation - is also now open. Members of the public can vote for their favourite tabletop game of 2023 using this form, which can also be found below. People's Choice voting will remain open until 00.00 BST on November 30th.
This year's Tabletop Awards will be announced during PAX Unplugged, taking place from December 1st to 3rd 2023 in Philadelphia's Pennsylvania Convention Center.
Tabletop Awards 2023 categories
Best Board Game - Standalone board game or self-contained boxed card/miniatures game released during 2023. This must be fully playable without requiring additional components or supplements. (For example, wargames needing a separate rulebook and miniatures are not eligible.)

Best Roleplaying Game - Tabletop RPG released as a digital or physical product during 2023. Both core rulebooks and supplements are eligible.

Best Ongoing Card Game - Trading, collectible, living or otherwise expandable card game release from 2023. Both core sets and standalone expansions (such as TCG sets) are eligible. This category is limited to games that are predominantly card-focused, rather than collectible miniatures games or similar.

Best Art - Artwork in a tabletop release from 2023, including board games, tabletop RPGs, card games and any other applicable tabletop games. Games with artwork created using generative AI or similar technology are not eligible for nomination.

Designer of the Year - Tabletop designer with three or more published titles.

Publisher of the Year - Tabletop publisher with three or more releases.

Rising Star: Designer - Tabletop designer with two or fewer published titles.

Rising Star: Publisher - Tabletop publisher with two or fewer releases.

People's Choice - The best tabletop game released this year, as decided by public vote. Nominations are not required; to vote directly for a game, use the form below.