One-vs-one survival-horror RPG looks like the perfect love letter to Halloween and classic slasher movies
1978: The Night THEY Came Home pits one player's supernatural killer against the other's everyday survivor.
A new two-player RPG will capture the tension and terror of classic horror movies such as Halloween, Friday the 13th and Nightmare on Elm Street.
1978: The Night THEY Came Home is inspired by the slasher flicks of the 1970s and '80s, pitting one player's Slasher - a supernatural Jason/Freddy/Michael Myers/Leatherface-like killer - against the other's everyday yet resourceful Survivor.
Co-designers Adam Vass and Logan Dean split the action into Day and Night phases, as the two players first outline their respective characters' backstories, draft cards and build up a stock of useful resources before facing off in a climactic chase around a spooky house - on the night of Halloween 1978, of course.
The story-focused, card-driven gameplay - a blend of storytelling RPG and card game - utilises a deck of poker cards to spark narrative prompts and allow each player to pull off their character's unique actions. The Survivor might hide or even fight back, while the Slasher may hunt them or merely watch for the moment. Its creators describe the game as being highly replayable while embodying the familiar arc of classic survival-horror films.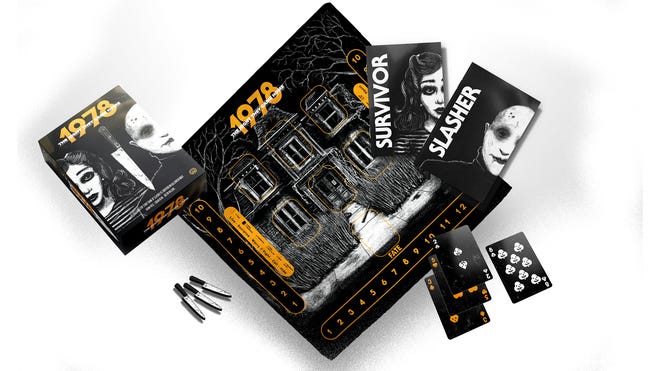 1978's upcoming Kickstarter will look to fund a boxed version of the game including its rulebooks - one each for Slasher and Survivor - a playmat, knife tokens used to track resources and a custom deck of cards printed with the game's narrative prompts. As well as the boxed version, 1978 will be released as a digital set of rules. The game's stark black-and-white illustrations by artist Justin Valliere - aka Black Coffiend - pay clear homage to the unsettling masked visage of Halloween's Michael Myers and the Final Girl trope of the era's slasher movies.
1978: The Night THEY Came Home will launch on Kickstarter on June 6th, ahead of an unannounced release date.