Arkham Horror co-designer's next board game will provide some much needed calm
Raindrops keep falling on my head.
A Gentle Rain, the upcoming board game from the co-creator of Arkham Horror - Kevin Wilson - promises to offer a relaxing experience, even during times of stress.
A tile-laying title about creating a feature lake filled with different coloured water-lilies, A Gentle Rain supports both a solo game experience, as well as a cooperative one. Originally designed to be a gift you could give friends or family members to enjoy during particularly busy times, such as the Holidays, A Gentle Rain is intended to be a tranquil board game that's easily portable - meaning that players can take it with them whenever they need something to help calm them down.
During the game, players will be looking to draw and place tiles next to one another in a way that ensures that any lilies that are cut off part-way along one tile, are matched with the tile that's placed alongside it. Eventually, players will draw the right type of tile to complete a lily, with every bloomed lily resulting in points. The goal of the tabletop title is to create each of the eight different colours of blooming lily before the player runs out of tiles to draw. The co-op game mode sees two or more players working together to achieve this objective by taking turns to draw and place tiles on the table.
The upcoming game comes with 28 tiles, as well as eight wooden tokens - which all fit into a travel-sized box. Players use the different tokens to mark out where they've managed to create each of the different types of blooming lilies using the game's tiles.
Besides creating A Gentle Rain and co-designing Arkham Horror, Wilson is also known for co-creating the beloved fantasy title Descent: Journeys in the Dark - which is receiving a sequel this year called Descent: Legends of the Dark - another entry in the Arkham Horror Files Universe called Elder Sign and the 2008 remake of the classic sci-fi themed board game, Cosmic Encounter.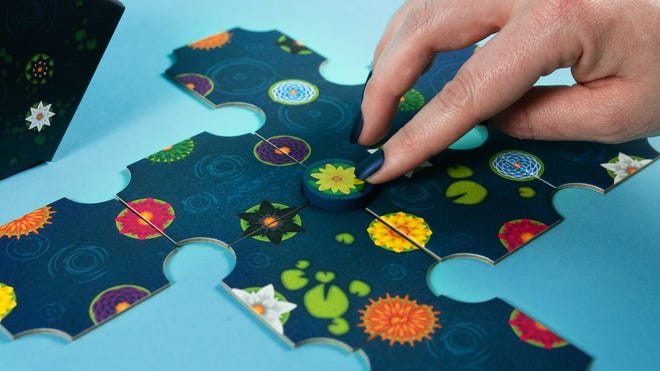 A Gentle Rain is being published by Mondo Games, the studio responsible for releasing the Unmatched series of miniatures board games, which sees players pitting a collection of characters inspired by iconic fictional and historical figures - such as King Arthur and Sherlock Holmes - against one another using their unique decks and abilities. Mondo also published the social deduction board game The Thing: Infection at Outpost 31, a title based on the cult classic horror film directed by John Carpenter.
Players can get their hands on A Gentle Rain now for $22 (£15) from the Mondo Games Shop, with the title set to hit retail stores next month.