Aggretsuko, the anime about a death-metal loving red panda, is being adapted into a card game
Grind and shred.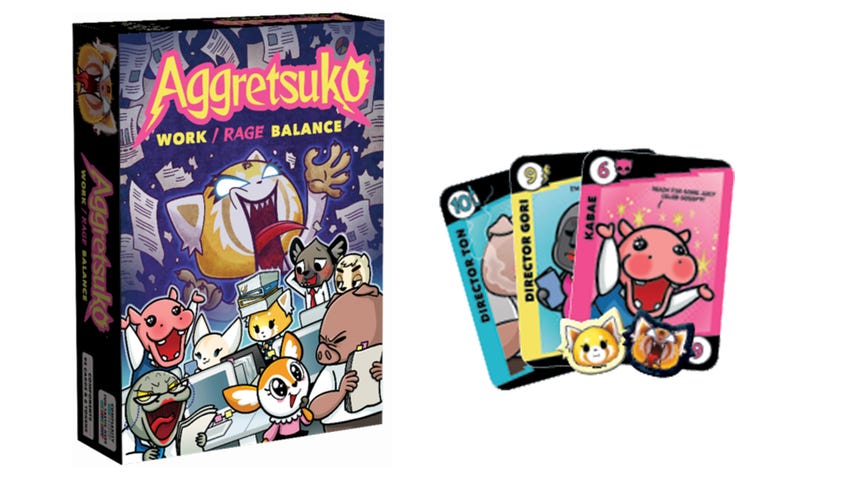 Use death-metal raging sessions to get through the daily grind in Aggretsuko: Work/Rage Balance, an upcoming board game adaptation of the anime series.
A quick card game for three to six players, Aggretsuko: Work/Rage Balance presents a world of anthropomorphic office workers who are sick and tired of their unfulfilling jobs. After hours of having to negotiate around office politics, wrestling with the printer and getting reprimanded by their superiors, sometimes there's nothing better for a blue-collar worker than an opportunity to let out all their inner anger through a death-metal scream-along.
In Aggretsuko: Work/Rage Balance, players become office workers who must relieve their stress levels by sneaking off to rage alongside a death-metal track, before getting through the rest of the day. Players will get a hand of cards representing the various menial tasks they'll have to complete throughout the day. Should a player character ever find themselves frustrated, they can choose to rage to get relief. However, if players lean on this too much, there will be consequences waiting for them further down the line.
Whichever player manages to play all of their work cards first triggers the end of the day, with the other players needing to account for all the work they have left to do. If a player has too many work cards left, they could end up having to do overtime.
Aggretsuko began as a web series based on a character created for Japanese mascot company Sanrio, before being turned into a Netflix series in 2018. The series follows Aggretsuko, an adorable red panda who works a thankless office job in Japan and is able to vent their various frustrations by singing death-metal at a karaoke bar. After a third season of the show aired in August 2020, it was confirmed that the anime series would be receiving a fourth season in the near future.
Renegade Game Studios is the publisher responsible for releasing Aggretsuko: Work/Rage Balance, and is known for releasing several other licensed games such as Power Rangers: Heroes of the Grid - as well as the upcoming Power Rangers: Deck-Building Game - and the Altered Carbon RPG, alongside popular tabletop titles such as Clank!: A Deck-Building Adventure and Raiders of the North Sea.
Aggretsuko has previously received another tabletop adaptation in the Funkoverse Strategy Game: Aggretsuko 100 expansion. Released last year and designed to be played with a core release in the Funkoverse Strategy Game series, the Aggretsuko expansion includes a figurine of the anime's main character and character cards that enable her to be used in a playthrough.
Aggretsuko: Work/Rage Balance is set to be released sometime this spring at a retail price of $20 (£14).