Run your own NASA in Apogee, a board game from astronomy YouTubers Hugo and Maxime Lisoir
It's rocket science.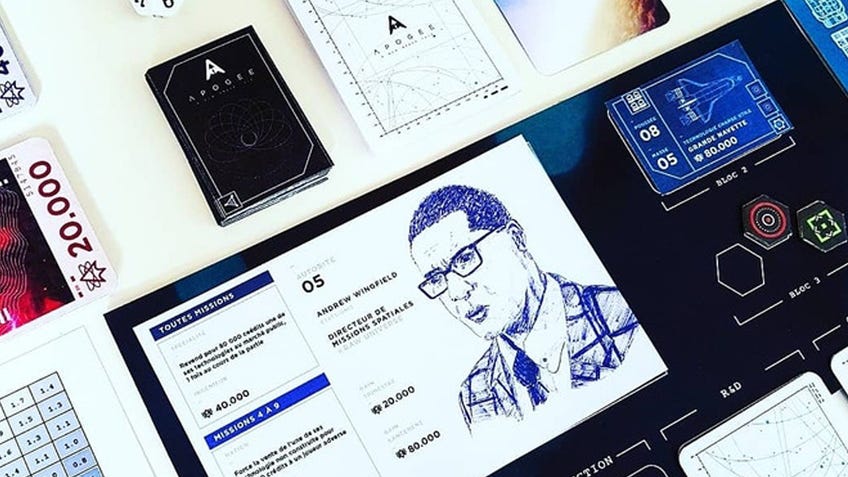 Take on the mantle of a brand new space programme and build a flight-ready rocket in Apogee, a game co-created by YouTube influencers Hugo and Maxime Lisoir.
New Space is driving private and commercial interest in galactic exploration, and riding this wave is the Apogee space programme - which is currently looking for its next leading director. In Apogee, each player becomes a mission director of a fledgling space programme with the ambition to launch a fully-functioning rocket out of the Earth's atmosphere.
An upcoming game for one to five players, Apogee sees players hiring new engineers, evolving the technology required for space exploration and - of course - building a working rocket. The players will have to compete with one another to see who receives more funding from the board, and who can manufacture the best rocket by the end of the game.
Apogee is a card-management game that has players carefully choosing with cards to play from their hand throughout every company quarter. There are nine different missions available to play in Apogee, with each one offering a varying level of difficulty.
The rocket-building board game was designed by Sergio Matsumoto - the creator of fantasy card game Light Hunters: Battalion of Darkness and semi-co-op game Efemeris - in collaboration with Hugo and Maxime Lisoir. The duo's YouTube channel has 323,000 subscribers and is focused around research into space flight, astronomy, astronautics and similar topics.
Apogee is being published by DTDA Games, a French indie studio responsible for releasing all of Matsumoto's previous titles.
The Kickstarter campaign for Apogee is live until October 14th, with a pledge of €36 (£33) getting backers a copy of the core game set to arrive next April.