Batman tabletop RPG revealed by Gotham City Chronicles studio
Nightwinging its way to Kickstarter.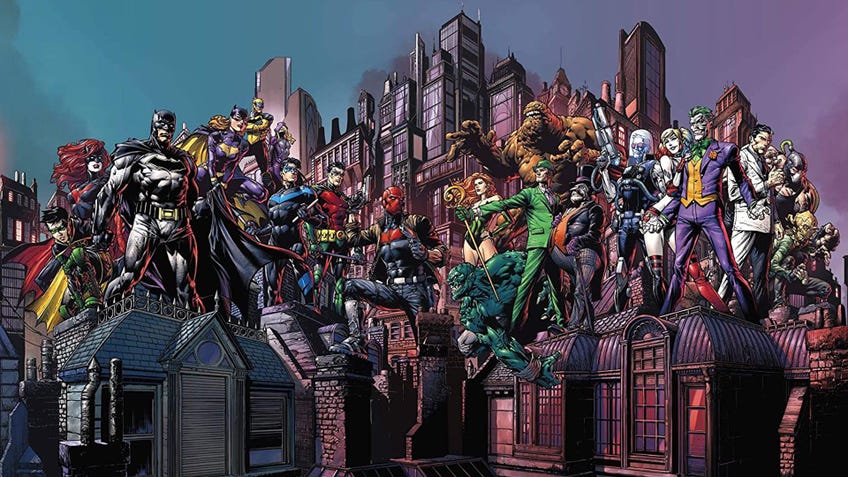 A new Batman tabletop RPG is headed to Kickstarter, courtesy of the studio behind board game Gotham City Chronicles.
Batman: Gotham City Chronicles - The Roleplaying Game takes its name from Monolith Edition's smash-hit board game starring the Caped Crusader - which raised more than $4 million on Kickstarter in early 2018 - and is based on the D20 System that powers the likes of Dungeons & Dragons.
The upcoming RPG will launch with five books, Monolith said, including a core rulebook for the D20 System titled Gotham's Heroes. Players will be able to play as existing Batman characters or create custom characters in the universe, with the option to fight crime as a masked vigilante or Gotham City Police Department officer, or cause it as a criminal. Further gameplay and setting details - including available characters, class equivalents and any differences between fighting for or against the law - are yet to be revealed.
Concept art posted by artist Anthony Jean shows heroes including both Damian Wayne and Tim Drake's Robin, along with Nightwing. On the villain side, Two-Face, The Penguin, Bane, Poison Ivy, Mister Freeze, Killer Croc, The Riddler and The Joker all make an appearance. The unfinished illustrations also show off a draft version of the RPG's cover artwork and a map of Gotham City.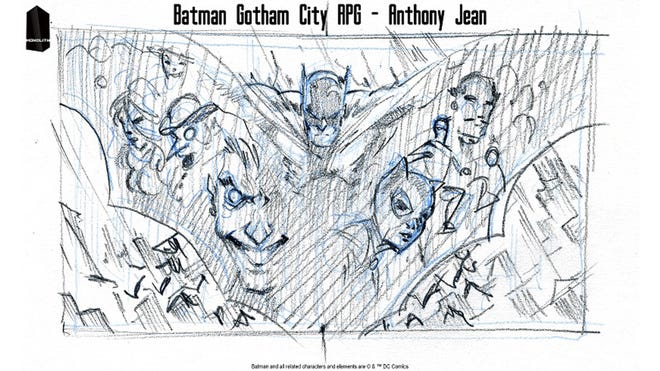 The remaining four releases will be setting and campaign sourcebooks. A Gotham City Guide will serve as a "reference tome" for the Batman universe and lore, with a specific focus on the titular city of Gotham that the Dark Knight protects. Meanwhile, the confusingly-titled Gotham's Chronicles for the Gotham City Chronicles RPG will offer a collection of scenarios, with two more campaign setting books to be revealed during the game's upcoming crowdfunding campaign.
Monolith is yet to announce when the Batman: Gotham City Chronicles RPG will launch on Kickstarter, as well as a potential release date. The studio hasn't confirmed whether the RPG will be exclusive to Kickstarter, with the Gotham City Chronicles board game only available via its crowdfunding campaign. Dicebreaker has reached out to Monolith for further information and will update this story as necessary.