Batman comic The Dark Knight Returns is being adapted into a single-player board game
Winging its way to Kickstarter next year.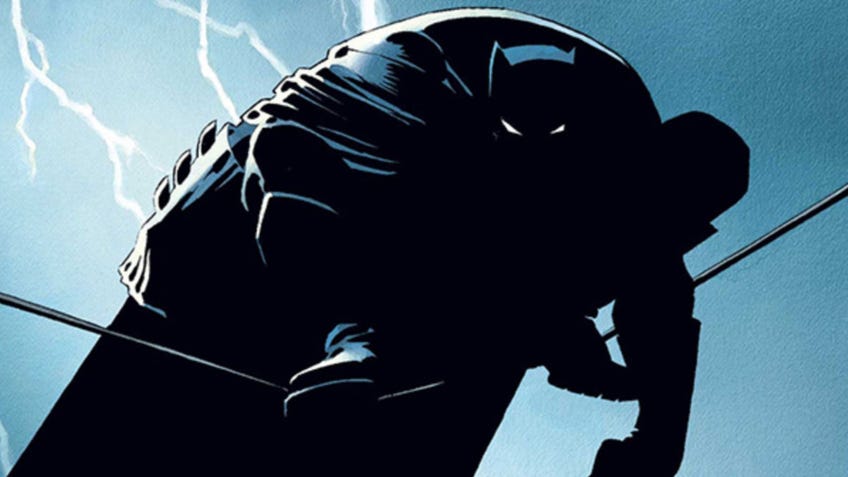 Experience a classic comic book storyline in Batman: The Dark Knight Returns Board Game, an upcoming tabletop adaptation of the miniseries by Frank Miller.
Batman: The Dark Knight Returns Board Game sees players becoming the caped crusader in a dystopian Gotham City, where violent gangs run rampant and the vigilante's old enemies continue to cause havoc in the streets. (Thanks, Bleeding Cool.)
A solo board game, The Dark Knight Returns has the player surviving one final night of crime-fighting as some classic villains - including Two-Face and the Clown Prince of Crime himself, The Joker - and brand new opponents wage war against Gotham. Eventually Batman will have to face a foe that was once an ally, but now stands against the older Bruce Wayne in a climactic showdown.
Players can approach The Dark Knight Board Game as either a set of standalone missions - to be tackled in separate sessions - or as a single campaign where the entire narrative of the game is played out in one session.
Batman: The Dark Knight Returns is a comic miniseries made up of four issues that were originally released during the summer of 1986. The storyline saw an older Bruce Wayne taking up the costume after a 10-year break from vigilante work, being spurred on by an emerging street gang called The Mutants. Throughout the comic series, Batman gradually descends further into violence until an iconic confrontation with another crime-fighter takes place.
The miniseries has since been adapted into a two-part animated film released in 2012 and has been cited as a major inspiration for the 2016 live-action film directed by Zack Synder, Batman v Superman: Dawn of Justice.
Daryl Andrews - co-designer of dice-rolling game Sagrada - and Morgan Dontanville, who created the ghostly train board game Spectral Rails, make up the design team behind Batman: The Dark Knight Returns Board Game.
Cryptozoic Entertainment is the company responsible for releasing the upcoming game, being known for publishing titles such as party game Spyfall, which sees players taking turns to become a spy attempting to figure out a secret location that all the other players are privy to, bizarre card game Epic Spell Wars of the Battle Wizards: Duel at Mt. Skullzfyre and the DC Comics Deck-Building Game.
The Kickstarter campaign for Batman: The Dark Knight Returns is set to be launched early next year, with the pledge amounts and release date yet to be confirmed.