Relive the age of video rentals (again) with movie quiz game sequel Blockbuster Returns
VH-guess.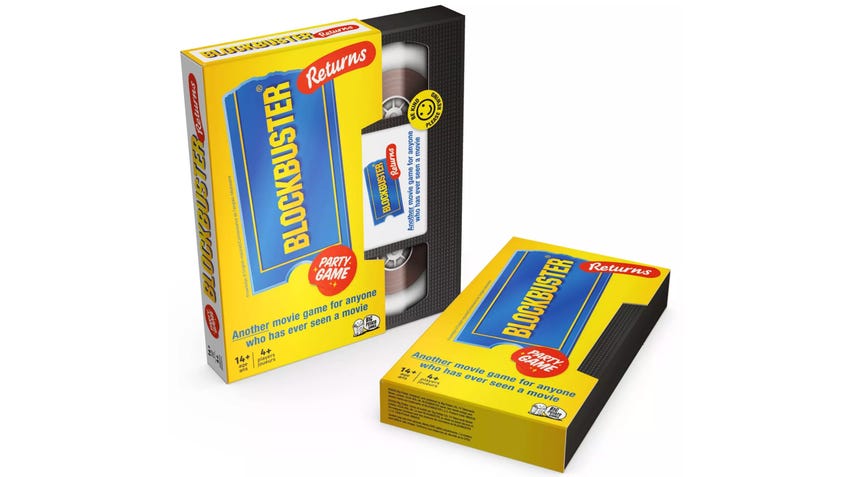 Blockbuster - the movie trivia game inspired by the defunct rental store chain - is back with a sequel that features fresh film categories and new cards.
In Blockbuster Returns, players split into two teams to compete in challenges focused around film trivia and charades. Held inside a box shaped like a VHS cassette, Blockbuster Returns sees four to 10 players facing off against the other team in two different game modes, both of which appeared in the original game.
The first round has players engaging in a head-to-head buzzer round that sees a card being drawn and one player from each team taking it in turns to name a film that fits the description in under 15 seconds. For example, if the description was a film featuring a librarian, one player could say "The Mummy". Should the player succeed, the gauntlet is passed back to the other team for them to provide a suitable answer. This continues until one team runs out of time. Blockbuster Returns adds new head-to-head cards to the mix.
The next round is called Triple Charades Jeopardy and sees each team trying to correctly guess film titles. One player from each team takes three cards with movies shown on them and has 30 seconds to get their teammates to guess them. Which films each player gets depends upon the category, with Blockbuster Returns featuring four new categories not found in the original: Heart Warmers, From Another World, Not For Kids and Remakes & Reboots.
Players can use three different methods to get their teammates to guess their movies: either by using a single-clue word, quoting a line from the film or by acting out a memorable scene. Whichever team successfully guesses two films from each of the categories is the winner of the round.
Blockbuster Returns was created by James Vaughan, the designer behind competitive strategy game Plague Inc: The Board Game and co-creator of 2018's Don't Get Got - a party game that sees players attempting to complete a series of hidden objectives.
Big Potato is the publisher behind Blockbuster Returns, as well as the original, and is known for releasing titles such as social deduction game The Chameleon and bizarre party game Herd Mentality.
Blockbuster was a chain of entertainment rental stores where people could rent films and video games. In January 2013 the company went into administration and eventually closed down almost entirely after a buyer failed to show interest.
Blockbuster Returns is available now at a retail price of $13 (£10) and can be combined with the original Blockbuster game or played as a standalone title.