Troyes co-designer and Lisboa artist team up for board game Carnegie
Based on the life of the philanthropist and industrialist.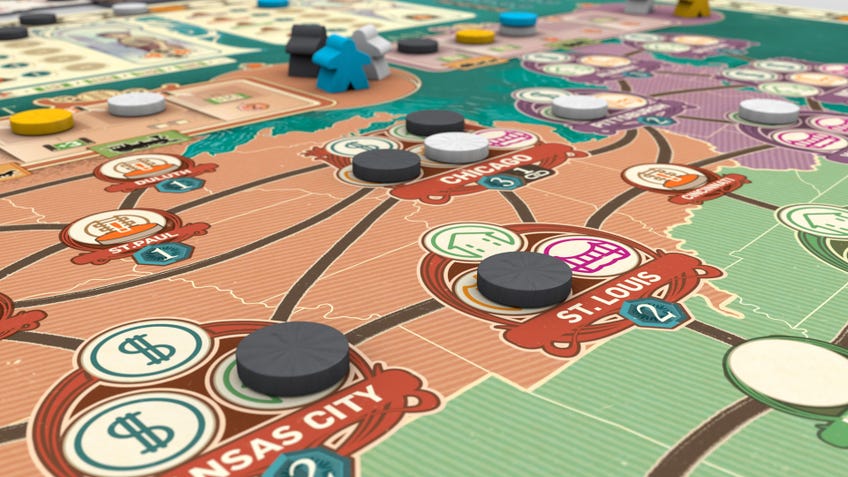 Explore the life of 19th-century philanthropist Andrew Carnegie in an upcoming board game designed by Troyes co-creator Xavier Georges and illustrated by Lisboa artist Ian O' Toole.
Carnegie is a board game for one to four players that sees players running their own businesses in the 19th century and using the profits they earn to help fund important public causes. Inspired by the life of Carnegie, a Scottish-born American industrialist who founded a steel corporation and donated large sums of money to various charities, the upcoming release has players attempting to form their own companies.
Taking place over 20 rounds, players take turns to perform four potential actions, such as recruiting new employees or investing in real estate. As players take their actions they'll move their markers across a timeline - depending upon which action they choose to take - which will trigger certain events. For example, when choosing to take income on their turn, players can trigger an event that enables them to recall any employees they may have assigned to particular missions across the US. These newly-returned employees can then create additional income.
Alternatively, players can gain an opportunity to make a donation to a particular public cause. Every time a player chooses to make a donation, the next potential donation cost will require an even higher amount of money. However, there is a chance for players to gain plenty of victory points from taking this action.
After a player has performed all four of their actions, they'll have to activate their companies' various departments. Each department can be activated by a different action and will offer the player the opportunity to take additional actions as long as the associated department contains at least one standing employee. After 20 rounds, players tally up their total victory points, with the winner being whoever has the largest amount.
As well as creating Carnegie and co-designing Troyes, Georges is known for designing Carson City - a Wild West board game that has players take on one another in a shootout - science-fiction board game Black Angel and tile-placement tree game Ginkgopolis. Apart from Carnegie and Lisboa, O' Toole has created art for On Mars, Age of Steam and Nemo's War: Second Edition.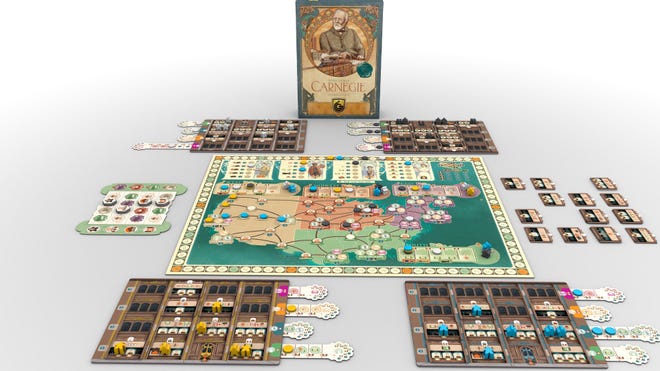 Carnegie is being released by Quined Games, a studio that has previously published other historically-inspired tabletop titles such as Firenze and Haspelknecht: The Story of Early Coal Mining.
The Kickstarter campaign for Carnegie is live until February 7th, with a pledge of €65 (£58/$78) getting backers a copy of the core game estimated to arrive in September.