Pirate jailbreak board game is seeing a re-release with fresh artwork and modes
A quick sail-away.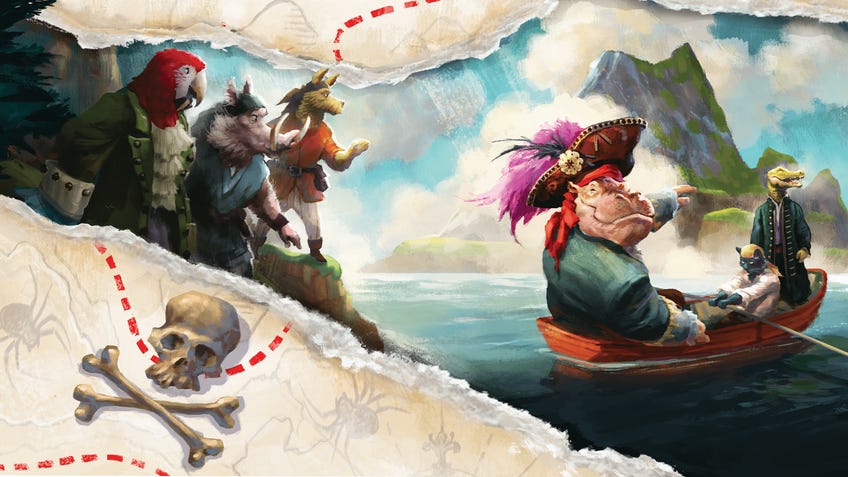 A new version of the pirate jailbreak board game Cartagena features entirely new artwork and gameplay modes.
Cartagena: Escape Diaries is an upcoming board game that takes the original 2000 release and revamps it for the modern era. Inspired by the 1672 real-life jailbreak in which a gang of pirates broke out of the prison fortress of Cartagena, Escape Diaries sees two to five players attempting to find their way through a series of underground passages in the hopes of reaching the island port and escaping. During the game, each player will be responsible for a group of six pirates, whom they must guide through the deep passages using various actions found on the cards they draw.
The major difference found in the upcoming re-release of Cartagena is the change in art style. Though several versions of the game have been released since the original was published, every one has leaned into the historical side of the pirate theming. However, in what seems to be a recent trend of pirate board games receiving re-releases featuring animal characters – such as the recent Libertalia: Winds of Galecrest from Scythe publisher Stonemaier Games – Cartagena: Escape Diaries' artwork features anthropomorphic animal pirates in place of the previous historical styles.
Watch on YouTube
Wheels highlights some of the most exciting board games releasing this year.
Another change featured in the new version of Cartagena is the addition of several new gameplay modes. First Escape is the gameplay mode that most resembles the original version of the board game, with players moving pirates through the passages by leapfrogging them over each other using their cards. In Second Escape, players will be able to alter the gameplay by placing a captain hat onto one of their pirates and using their respective powers, whilst Third Escape enables players to attempt a faster – yet more dangerous – escape aboard a leaky raft. The final available gameplay mode, Fourth Escape, combines both the elements from Follow the Captain and Risky Rafts into a single mode.
Cartagena: Escape Diaries was created by Leo Colovini, the designer behind the original Cartagena and other board games such as Inkognito – a game about completing secret missions – and a game about rearranging huts called Clans.
Meehan, Liv, Matt and Lolies play the BoardGameArena version of the original Libertalia.
Pretzel Games is the publisher responsible for releasing Cartagena: Escape Diaries, with the studio previously releasing tabletop titles such as dexterity games Flick 'em Up!, Flick 'em Up!: Dead of Winter and Junk Art, as well as Camel Up: Second Edition.
Cartagena: Escape Diaries is set to be released in Fall/Autumn 2023, with a retail price yet to be confirmed.