Catacombs & Castles' second edition adds a two-player variant to the dexterity game spin-off
Flicking & fighting.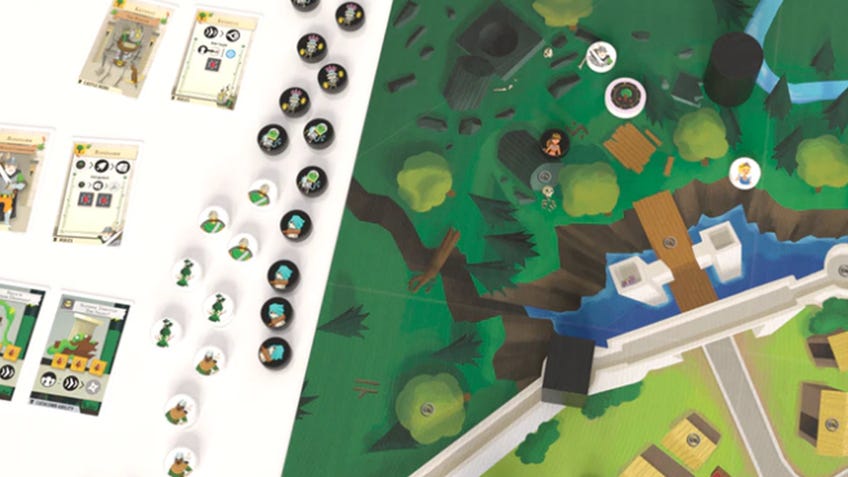 Assemble a team of heroes in a battle for the surface in Catacombs & Castles: Second Edition, a brand new version of the spin-off dexterity board game.
Flicking enthusiasts can experience Catacombs & Castles in a fresh edition which adds a collection of new components and content to the party game. Alongside a new neoprene playmat - including an additional mat based on the Pit board from the Keystones & Keeps expansion - Catacombs & Castles 2E features a rewritten rulebook and several new cards for the game, such as the Royal Archer and Wraith Knight. New players will be able to get to grips with the title quicker using a simplified set of hero rules for beginners, while experienced players can utilise new shots including casting lightning and giant fireballs.
The upcoming board game is also compatible with the most recent version of Catacombs, with players able to experience Catacombs & Castles as an expansion to the original game. The second edition of Catacombs & Castles features a new two-player variant that introduces skirmish battles to the game, with each player controlling just two heroes.
In Catacombs & Castles, players form into two teams - the Castle Heroes and Catacomb Heroes - and compete against one another to conquer the surface world. Whilst the Castle Heroes team is made up of human soldiers and warriors, the Catacomb team consists of undead creatures seeking conquest above ground.
Players can pick between 12 different heroes, each with their own abilities, and can control multiple heroes at once. Using their chosen units, players take turns to move and attack by flicking various tokens across the game's mat, launching spells, projectiles and melee attacks against the enemy.
The spin-off title is part of the Catacombs series of board games, which began with the original release in 2010. A semi-co-op game for two to five players, Catacombs sees one person taking the role of Overseer - who controls all the forces of the underground - whilst the other players can each be one of six potential heroes. The heroes attempt to save the world of Stormtryne from the machinations of the Overseer by flicking tokens to perform attacks on the opposing units.
Catacombs & Castles: Second Edition was created by Aron West, a co-designer on the original Catacombs, and is being published by Elzra Corp - the studio responsible for the entire series of dexterity games.
The Kickstarter campaign for Catacombs & Castles: Second Edition is live until April 1st, with a pledge of CA$ 64 (£37/$50) getting backers a copy of the game estimated to arrive in January 2022. Alternatively, owners of the original version of Catacombs & Castles can get an upgrade kit for the Second Edition for CA$ 49 (£28/$38).