Clank! In! Space! Adventures' series of mini-expansions for the deckbuilder begins with Pulsarcade
Gaming in the galaxy.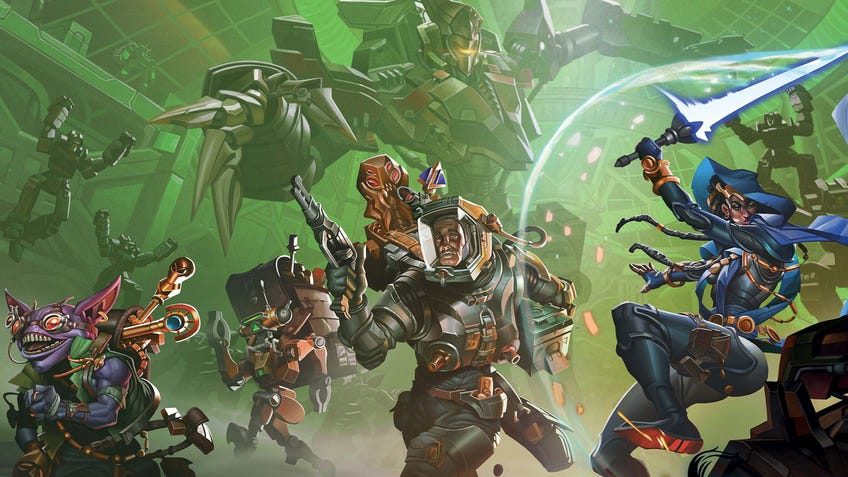 Score points and loot by playing retro video games in Pulsarcade, the first mini-expansion in the Clank! In! Space! Adventures series.
The first in a series of "episodes" for Clank! In! Space! - similar to the Expeditions series of mini-expansions for the original Clank! - Pulsarcade is a small expansion featuring six new areas and elements for players to discover in the deckbuilding game. Hidden away in Lord Eradikus' spaceship is a secret arcade room that contains the evil overlord's prize collection of antique gaming cabinets. Players will be able to earn loot by hitting high scores, although how players actually interact with the arcade cabinets is yet to be revealed.
Pulsarcade also includes several other new modules for players to experience, such as vaults with contents that can be sold on a black market for extra funds, scientific techniques to be harnessed for thieving - such as creating clones - and the Danger Theatre, which houses an audience waiting in anticipation for blood to be spilled.
Clank! In! Space! is a board game for two to four players set on the Eradikus Prime - an enormous spaceship filled with priceless artefacts that are ripe for the taking. Throughout the game, players take turns to use all the cards in their hand in order to move through the vessel, fight the enemies within and grab as much loot as they can carry, before making their way out once again.
However, should players ever use a card showing a Clank! symbol, they will alert Lord Eradikus to their presence and put a target on their heads. Whenever an attack card is revealed, Eradikus will unleash his rage on the thieves left in his ship and cause them to take damage. Players must be able to leave the Eradikus Prime with their treasure if they want to score any points, otherwise they risk dying in its depths and getting nothing.
Paul Dennen, the creator of the original Clank! and last year's Dune: Imperium, is the designer behind Clank! In! Space! and a co-creator of Pulsarcade - alongside Evan Lorentz, co-designer of the previously released Apocalypse and Cyber Station 11 expansions.
Pulsarcade is being released by Dire Wolf, the studio responsible for both Clank! and Clank! In! Space! as well as several digital board game versions of tabletop titles including Root and Raiders of the North Sea.
Clank! In! Space!: Pulsarcade is yet to receive a release date or retail price, with information on the future episodes in the Adventures series also under wraps.