Climate Crisis co-op board game from Pandemic creator changes name to Daybreak
Set to be published by Monikers studio.
The upcoming board game about climate change co-designed by the creator of Pandemic, Matt Leacock, will now be released under a new name.
Originally referred to as Climate Crisis in an article by The New York Times, the co-op game from Leacock and co-creator Matteo Menapace looks to have undergone a name change. Polygon reports that the recently announced board game is now called Daybreak, with no confirmation as to why the title has been changed other than a comment made by Leacock explaining the inspiration behind the name.
"There's so much apocalyptic coverage out there [...] It can look pretty grim. But, there are ways forward, and we want the name to be more of a positive," the designer said.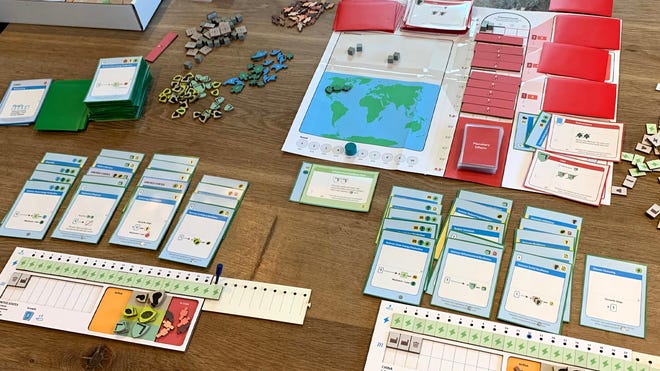 Beside the new name, the Polygon article revealed that the publisher responsible for releasing the game will be CMYK, best known as the studio behind party games Monikers and Wavelength.
The interview also shed some light on elements of Daybreak's gameplay, including the fact that each of the world powers found in the title would have access to "different abilities" and that players will need to manage both mitigation and adaptation - removing the harmful carbon dioxide from the Earth's atmosphere and preparing society for the effects of global warming - if they want to succeed.
"I want people to take it seriously [...] But, first and foremost, I want people to play it and enjoy it," explained Leacock. "I recognise that people aren't necessarily gonna want to play this thing if all it is is preachy."
Daybreak was initially revealed last month in the The New York Times article, in which Leacock spoke about the game's initial conception and its design similarities to Pandemic. According to Leacock, the title has been in development since 2019, with the Pandemic creator teaming up with Menapace to design a game that focused on the issue of climate change, rather than the spread of disease.
A co-op game for up to four players, Daybreak challenges players to work together in order to manage the rising temperature of the Earth and prevent the effects of global warming from escalating. Players choose between a selection of different groups representing key geographical areas, such as the US and China, and use their various cards to clear the carbon emissions being released into the atmosphere.
Besides reducing carbon emissions, players will also need to look into ways of promoting green policies, such as building cleaner energy structures such as solar power plants or boosting efforts to recycle the world's food waste. Players succeed if they make it to the end of the game without the Earth's temperature increasing too much.
There is no confirmed release date or retail price for Daybreak.