Codenames' two-player, co-op spin-off Duet is now free to play online
Covert cooperation.
Codenames: Duet, the two-player version of the classic party board game, is now available to play online for free.
With the official online version of Codenames: Duet players can experience the co-op board game together regardless of where they are. Codenames: Duet Online can be played in a web browser, with players able to share a link to their game with their friends and family - making it easy to invite players and set up new games. Players then simply use the provided textbox to send their clues to their teammates and select which word cards they want from the virtual grid.
Codenames: Duet is a spin-off title from the original espionage-themed word game. Instead of competing against one another in two teams, all participating players work together. Whereas the first Codenames title had players choosing sides in a secret war between two spy agencies, Duet has two or more players becoming part of one complete operation where they're tasked with finding all the agents on the board.
Players attempt to guess which of the word cards in the five-by-five grid correspond to their agents. Each side takes turns to play as the clue-giver, conjuring up one-word clues that refer to one or more word cards in the grid. The clue-givers both have access to one side of a double-sided solution card that shows which word cards their partner or teammates need to guess. The other side must then choose which card or cards they think the clue-giver is referring to.
Correct answers will reveal the word cards as being agents, whilst incorrect answers can either result in the discovery of an innocent bystander - which simply forces the current group to stop guessing using their clue - or an assassin, causing the game to immediately end and all the players to lose. Should players successfully guess all their agent cards then they win the game.
Vlaada Chvátil - creator of the original Codenames, as well as deckbuilding epic Mage Knight and science-fiction game Galaxy Trucker - and Scot Eaton are the co-designers behind Codenames: Duet.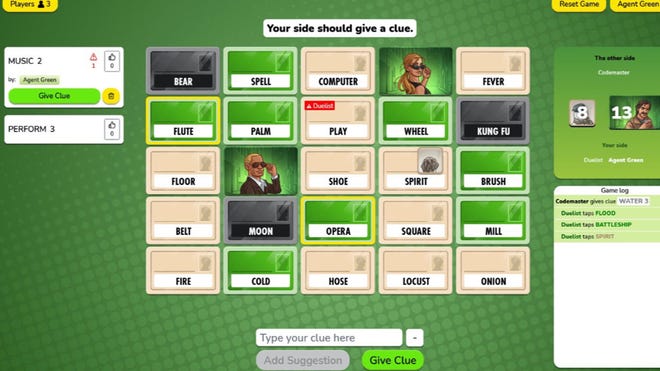 The tabletop and online versions of Codenames: Duet were both published by Czech Games Edition, the studio responsible for releasing the entire Codenames series alongside fantasy board game Alchemists - that has players attempting to brew various potions - another title by Chvátil called Through the Ages: A New Story of Civilization and real-time co-op game Space Alert.
The online version of Codenames: Duet can be found on the game's website, alongside a free web browser version of the original Codenames.