Warhammer 40k's next board game resurrects a rare miniature from Blackstone Fortress
The dreaded Ambull returns at a reasonable price.
Warhammer 40,000 is getting a new board game that will pack in a number of figures from the grimdark universe's beloved dungeon-crawler Blackstone Fortress, including an especially hard-to-find model from one of its expansions.
Combat Arena: Lair of the Beast is Games Workshop's latest standalone addition to Warhamer 40,000, following on from the original Combat Arena spin-off released in 2019 and last year's Clash of Champions. Combat Arena was itself a 40k remake of the fantasy-flavoured Gorechosen, set in Warhammer's Age of Sigmar setting.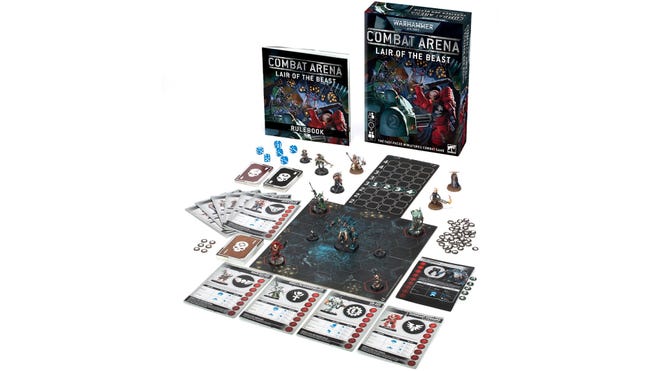 While past Combat Arena games simply saw players duke it out in a tight-knit gladiatorial arena with a single miniature each, Lair of the Beast will throw a new 'vE' into the PvP action. As well as needing to fight their fellow combatants, the two to four players will need to deal with the monstrous presence of an Ambull, a massive alien with stompy feet and unpleasant mandibles.
That Ambull will be represented by a returning miniature from the Dreaded Ambull expansion for Warhammer Quest: Blackstone Fortress. While Blackstone Fortress' 2018 base game remains in print, the out-of-print expansions for the sci-fi HeroQuest successor - the last of which was released in 2020 - have remained difficult, or at the very least expensive, to pick up in the years since their release. As such, the Ambull's inclusion in Lair of the Beast will mark a welcome return to wider availability and affordability for the sought-after model.
Several more of Lair of the Beast's 10 playable characters are similarly pulled from existing Blackstone Fortress sculpts, joining the likes of Space Marine sergeant Vennaro and robot UR-025 in the playable roster of characters. Each has unique abilities and loadouts that can be used to try and wrest victory.
While the return of a rare miniature at a reasonable price is good news, the potentially less-good news is that it won't be quite so easy to find depending on where you live. Combat Arena: Lair of the Beast has only been confirmed for release in Barnes and Noble in North America and in Germany at retailers Müller, Thalia, Elbenwald and GameStop - meaning the rest of the world, including the UK, will still need to try and track down a copy.