Cooperative swashbuckling board game Dead Men Tell No Tales rises from the depths
Renegade Game Studios to reprint the 2015 title later this year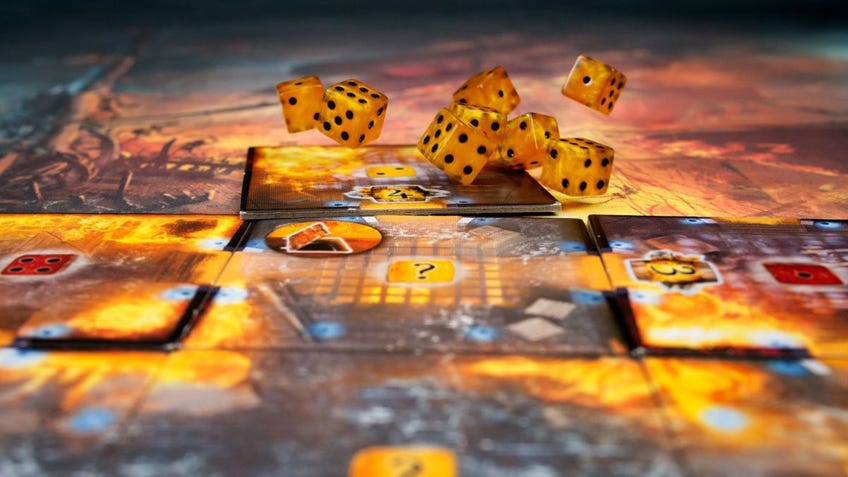 Ring up your best swabbies because the cooperative board game Dead Men Tell No Tales will be returning to print with some art and miniature upgrades. Renegade Game Studio has announced that pre-orders are open ahead of a planned retail launch in October.
Originally designed by Kane Klenko, Dead Men Tell No Tales was first published in 2015 under Minion Games. Two the five players take on the role of a crew of pirates raiding the ship Skelit's Revenge in order to "liberate" its heavily laden cargo hold. The board pieces that represent the decks of Captain Fromm's ship are gradually revealed through exploration, meaning dangers and murderous skeletal pirates could lurk just beyond the next shadowy bulkhead.
Time is not on the side of the would-be raiders, as their boarding party set the masts aflame, and it has quickly spread throughout the rest of the ship. Players will need to coordinate their limited actions in order to grab as much booty as possible and make it out to actually see it spent on calmer shores. Aiding in that endeavor is Dead Men Tell No Tales' ability to pass actions between teammates to better exploit positioning or unique items that will keep the team alive long enough to escape.
Renegade Game Studios - best known for fantasy deckbuilding title Clank! and the West Kingdom series of strategy games - said that its "long-standing relationship" with Klenko allowed them to acquire the licence for Dead Men Tell No Tales and update it for its next public release. It fell out of print circulation after Minion Games' founder James Mathe passed away in June 2019. Mathe also co-founded the Drivethru print-on-demand model that has since become a staple of the tabletop hobby.
The studio said it will not be touching the rules for the base game, instead focusing its resources on a broad art pass aimed at updating most major elements - tokens, ship pieces, player boards and cards among them. Senior producer Dan Bokanowski mentioned in a BoardGameGeek thread that the reprints will also slightly change the shape of the box to a larger square, add fire and explosion tokens from the expansions into the base game and - perhaps most exciting to players - swapping the pirate meeples for the miniatures that were originally in a separate expansion.
The seven miniatures will replace the skull meeples used to represent the players as they skulk through Fromm's ship. All of these changes will be shipped in the core game's box and be part of the base price going forward. Those who already own Dead Men Tell No Tales but are looking to grab either the Kraken or miniatures expansion will be able to purchase whatever is left of the existing stock from Renegade Game Studios, as well.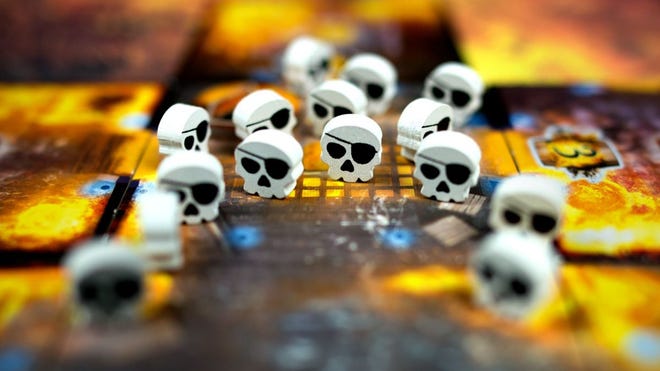 There's also a 1000-piece jigsaw puzzle available to pre-order that features the cover art from the game's box, which was illustrated by Chris Ostrowski. Renegade has habitually transformed their catalogue into constructable art for lazy afternoons or when the game group can't all make it.
Klenko is an independent designer whose past work include dexterity games Fuse and Flipships, along with espionage strategy title Covert and the compact Pandemic experience Rapid Response.
Dead Men Tell No Tales' preorders are now open on the publisher's website and run $50 (£36). Retail copies are expected to hit shelves sometime in October of this year.