Dice Hospital gets a roll-and-write spin-off, Emergency Roll
Medical meddling.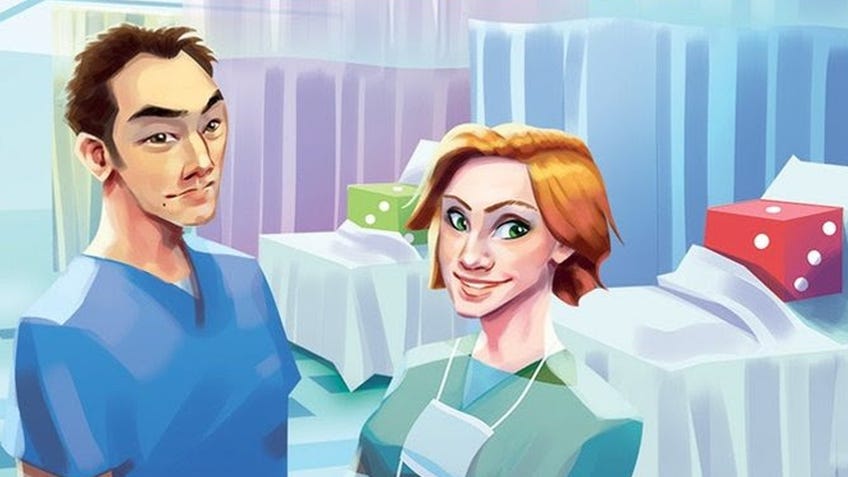 Rush patients through the doors and into intensive care with Dice Hospital ER: Emergency Roll, a spin-off from the worker-placement board game that's coming to Kickstarter.
Emergency Roll is an upcoming game for one to six - or more - players that takes place in the busy accident and emergency section of a hospital. A roll-and-write game, meaning that players collect points by assigning dice results to a scoresheet, Emergency Roll looks to emulate the fast-paced and hectic nature of an A&E ward with a game that takes up to 30 minutes to play.
In Emergency Roll, players roll their dice and fill in their sheets with the results. The numbers they choose represent each one of their assigned patients. Throughout the game, players will flip their score cards between two separate sides, with each side providing different opportunities to acquire points.
The original Dice Hospital is a board game in which one to four players attempt to appease the local government by treating as many patients as quickly as they can. As a worker-placement game - meaning that players assign meeples, tokens or dice to perform various actions - Dice Hospital challenges players to keep up with the rising tide of patients.
However, players need to take care that they do not neglect their patients, as poor health scores negatively affect player reputation. Whichever player has the best reputation with the local authorities by the end of the game is the winner.
Emergency Roll was designed by Matthew Dunstan and Brett J. Gilbert, the creators of tabletop titles such as epic Greek mythology game Elysium, Egyptian pattern-building board game Pyramids and last year's Chocolate Factory - alongside designer David Digby.
Alley Cat Games is the publisher responsible for Emergency Roll and - aside from Dice Hospital - is known for releasing Chocolate Factory, adorable roll-and-write game Cat Café and swashbuckling deckbuilding board game Ruthless.
Dice Hospital ER: Emergency Roll will be released as part of a Kickstarter campaign for Dice Theme Park, a board game in which players compete to create the most exciting amusement park possible. The Kickstarter campaign for Dice Theme Park is set to launch in Q1 2021.