Point Salad creators' next game is like Patchwork but with doughnuts
Run rings around your opponents.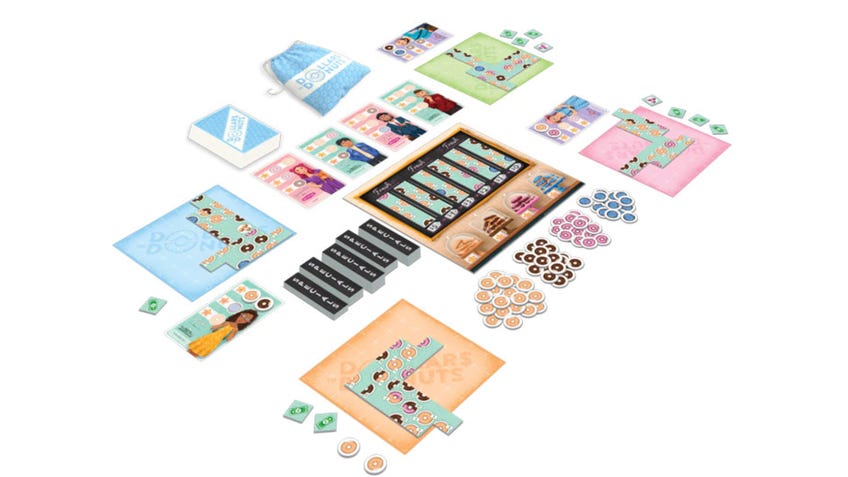 Match tiles to create piles of sugary perfection in Dollars to Donuts, the next board game from Flatout Games, the makers of last year's Point Salad.
Dollars to Donuts is a board game about managing a doughnut shop and serving as many happy customers as possible. Designed to support one to four players, the upcoming board game sees players competing to bake and sell doughnuts in order to score victory points. Each kind of doughnut equates to a different kind of victory token, with the fancier varieties - such as deluxe sprinkled and jam-filled donuts - netting the player rarer tokens.
Victory tokens can be obtained by purchasing and placing tiles onto player boards, with every one showing a different combination of doughnut symbols cut into half. Should these half-doughnuts be made whole by being combined with another matching half symbol, then the player receives an appropriate victory token. Each tile is shaped in a way that requires players to place them in the best possible location on their board, similar to how tiles work in Patchwork.
Any mismatched symbols will grant the player a dollar token instead of a doughnut, which they can use to buy more tiles to place on their board.
Players can then use their victory tokens to serve the queues of customers lining up to get their fill of sugar, with each customer seeking different kinds and amounts of doughnuts. Supplying customers with the various baked goods they desire will grant players additional victory points on top of the points they get from their doughnuts.
Whichever player collects the most victory points by making doughnuts and serving customers is named the winner of Dollars to Donuts.
Besides designing Point Salad - which was one of the best games I played last year - tabletop studio Flat Out Games, which is made up of designers Molly Johnson, Robert Melvin and Shawn Stankewich, is also responsible for creating upcoming titles Truffle Shuffle and Public Market. Both games are due to release later this year.
Crafty Games is the publisher set to release Dollars to Donuts and is known for creating several titles based on Brandon Sanderson's Mistborn series of fantasy novels, including Mistborn: House War - which sees players competing to bring power and wealth to their noble family - and its upcoming expansion Mistborn: Siege of Luthadel.
The Kickstarter campaign for Dollars to Donuts is live until August 11th, with a pledge of $29/£23 getting a copy of the core game estimated to arrive in May 2021. A print-and-play version of the game is available for a pledge of $5 (£4), which will be released in September.