New board game is like "if Betrayal at House on the Hill and Castlevania had a baby"
Beware Dracula's Curse.
The creator of a new board game has described it as being like "if Betrayal at House on the Hill and Castlevania had a baby."
Dracula's Curse – a name that mimics the title of the iconic video game Castlevania III: Dracula's Curse – is an upcoming board game that has one player taking the role of the villainous vampire lord and the others becoming his potential slayers. The players fighting against Dracula will be able to choose from one of seven unique characters that each have their own abilities. As a team of vampire slayers, players will need to navigate through the castle in order to find Dracula's throne room and defeat him.
Throughout the game players will explore the castle's rooms by opening doors and drawing tiles from a single stack. As players advance up the castle floors, they'll face deadlier monsters and even great challenges. Players have the potential of drawing a curse tile, which will require them to draw a curse card that is more than likely to result in something bad – such as that character being inflicted with a curse that reduces their abilities or movement speed. However, some curse cards can cause positive things to occur such as the player finding a powerful weapon.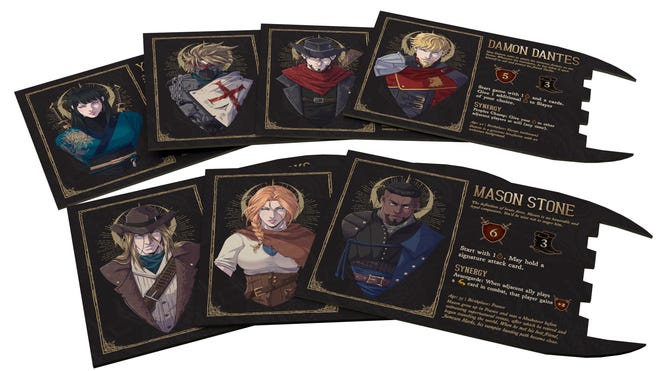 Dracula can also decide to place his own tiles within the castle that also have negative effects, as well as a very small chance of granting a positive effect onto a player. Players will need to explore at least a few of Dracula's tiles in the horror-themed board game as one of them will be the grand staircase, which they'll need to venture upstairs to where Dracula's throne room is. However, it would be a wise idea for players to explore at least some of the preceding rooms in order to find the resources they'll need to defeat the bloodsucker.
Whilst the slayers are exploring the castle, the player controlling Dracula will want to use their Essence resource to perform various abilities, including reaping the souls of the monsters killed by the slayers in their search through the castle. By reaping souls, Dracula will be able to buff their remaining monsters – thereby creating an even greater barrier for the slayers to overcome. The other players can use any blood points gained through killing monsters to boost their respective abilities and make them a greater threat to Dracula.
Should the vampire lord ever succeed in murdering any of the slayers invading his castle, then that player will subsequently become a member of the undead themselves. This doesn't necessarily mean that they'll turn on their former allies, as that player will draw a secret card that will inform them as to which team they'll be working with now – either the slayers or Dracula. On top of this, Dracula has access to four tokens that they can use as either hidden traps for the slayers to run into or combine to unlock even greater powers.
Wheels recommends a collection of horror board games to play around Halloween.
Dracula's Curse was created by John Muennink, also the founder of the publisher behind the board game, Retro Plus Games. The artwork for the title was co-created by Shelley Preston, Consuelo Pecchenino, Daniel Cunha, Johny Caballero, Kate Draconi and Vladislav Nekrasov, with the graphic design having been created by Katherine Boils.
The Kickstarter crowdfunding campaign for Dracula's Curse is live until November 21st, with a pledge of $55 (£45) getting backers a copy of the title in August 2024.