Dune: Imperium sequel features characters from Dune: Part Two and a semi co-op team mode
Supports up to six players.
A sequel to Dune: Imperium, the deckbuilding board game based on the 2021 film, has been announced.
Adapted from the series of sci-fi novels written by Frank Herbert, Dune: Part 1 is a film directed by Denis Villeneuve and starring the likes of Timothee Chalamet, Zendaya, Rebecca Ferguson and Oscar Isaac. Set in a universe in which a ruthless empire has conquered and stripped various planets of their resources, Dune: Part 1 sees Paul Atreides – the heir to House Atreides's wealth and land on the planet Arrakis – becoming a pawn in a plot to rid him of his inheritance and take control of the valuable stores of Spice, a rare resource that unlocks the ability to travel across space, on Arrakis.
Dune: Part 2 looks to pick up where the first film left off, with Paul allying himself with the Fremen people of Arrakis: a society of nomads who want to free their planet from the tyranny of the empire. Alongside several returning characters are a cast of new characters that include Léa Seydoux as Lady Margot – one of the strange, prophetic Bene Gesserit – Austin Butler as Feyd-Rautha Harkonnen and Florence Pugh as the emperor's daughter Princess Irulan.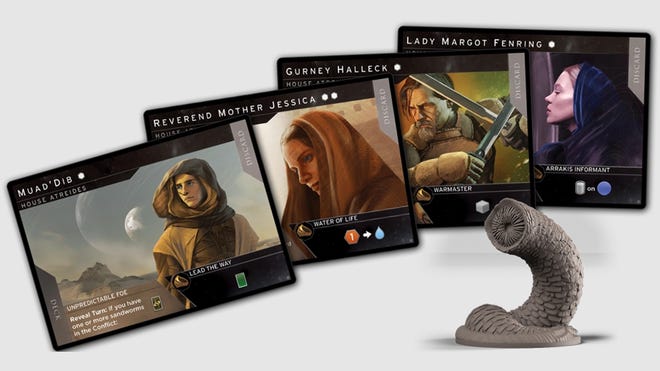 Dune: Imperium Uprising is a sequel to Dune: Imperium and looks to feature characters from the upcoming sequel film, with promo artwork depicting Léa Seydoux as Lady Margot and a card featuring Timothee Chalamet under the name Muad'Dib, which is the Fremen name Paul Atreides adopts when he becomes part of the society, possibly during the events of Dune: Part 2.
The upcoming board game will "expand" on the original Dune: Imperium, with players employing a combination of deckbuilding and worker placement gameplay mechanics – which is when players assign a limited number of tokens to perform specific actions – in order to acquire and protect power across Arrakis and beyond. In the game, players will be able to employ methods favoured by the empire, such as political intrigue and spy work, and Fremen tactics in order to defeat their opponents. Players will be able to learn the ways of the Fremen, including riding giant sand worms into battle.
As well as the new character, cards and gameplay mechanics, the new movie board game will include a six-player mode that will enable players to team up against each other in a semi-co-op style mode.
Watch on YouTube
Wheels highlights some exciting board games coming this year.
Dune: Imperium Uprising was created by Paul Dennen, the designer behind the original Dune: Imperium and the creator of deckbuilding board game Clank!. Dire Wolf, the company responsible for publishing Clank!, will be releasing Dune: Imperium Uprising.
The release date for Dune: Imperium Uprising is set for Q4 2023. (Thanks BoardGameGeek.)