D&D 5E's new heist-themed Keys from the Golden Vault adventure book is already discounted by 30%
Assemble your crew, there's a job to do.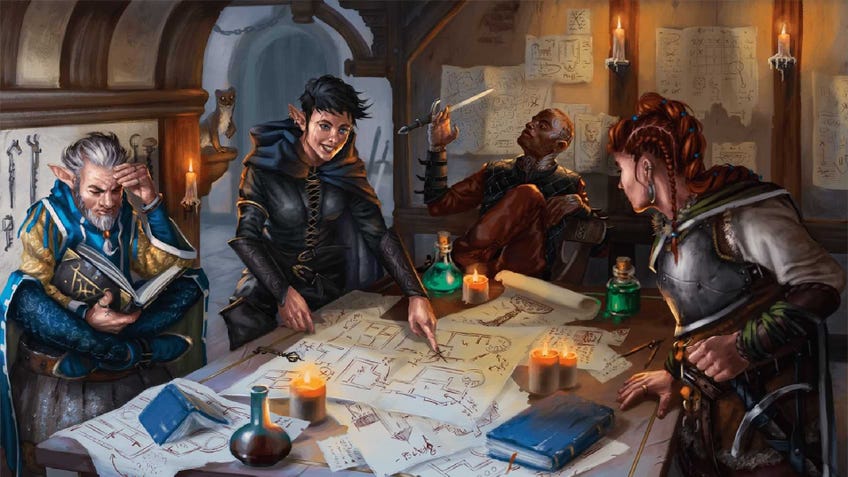 The latest Dungeons & Dragons adventure book from Wizards of the Coast has gone a different direction from previous adventures with Keys from the Golden Vault, which came out on February 21st in the US.
Keys from the Golden Vault will turn DMs into fixers and players will form their crew as they take on 13 standalone heist-themed adventures of varying difficulty in different locations with different objectives.
It's a sizable shift away from the war-heavy Dragonlance epic adventure that came out at the end of 2022, but it makes sense with the upcoming Dungeons & Dragons: Honor Among Thieves film that is set to release on March 31st.
While many D&D fans don't expect the upcoming film to be any good, the response to Keys from the Golden Vault has been positive. If you're eager to assemble your D&D crew for some heist-based hijinks, then you can grab the Keys from the Golden Vault adventure book for almost $15 less than RRP at Amazon US right now:
Keys from the Golden Vault isn't out in the UK at the moment, but it isn't far away with a March 24th release date. You can pre-order the book from Amazon UK for a similar price of £35.95.
Keys from the Golden Vault contains 13 short, standalone Dungeons & Dragons adventures. There's an adventure for each level, with an extra adventure to be played at level 5 and level 8. You can run them as one-shots, sprinkle them in your current campaign where appropriate or run them all in their own campaign by linking them together yourself.
Each adventure comes with a pair of maps, one for the players and one for the DM, so they can plan out the heist accordingly. DMs can up the ante through the use of a rival crew who are competing to pull off the heists before the players do, and there are extra instructions in the book on how to handle that mechanic.
There's also a version of Keys from the Golden Vault with an alternative cover, styled like a large golden keyhole, which you can find at your local game store.The digital version is also available now on D&D Beyond for $30.
Keys from the Golden Vault is a refreshing new set of adventures for D&D 5E, and it could be one of the final new adventure books we get before the One D&D changes come in 2024. If you want to hear of any more D&D adventure book deals, or other deals on dice, minis and other tabletop accessories then follow Jelly Deals on Twitter so we can let you know when we find a good deal.