Cleric dice set lets you roll a chalice, war hammer and potion bottle
Holy roller.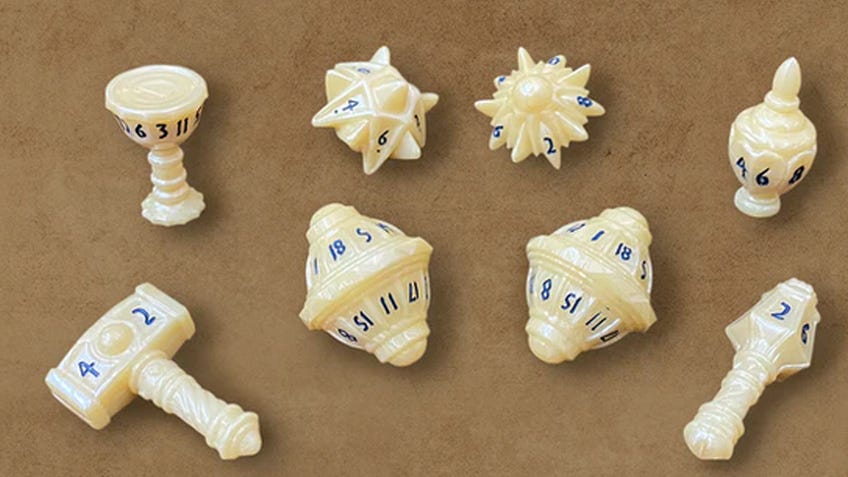 Embrace the caring and protective nature of the Cleric character class by rolling a set of dice shaped like blessed chalices, mighty hammers and other clerical symbols.
The Cleric Set of polyhedral dice contains eight different shaped dies based on the archetype of the Cleric class. Typically found in fantasy roleplaying games such as Dungeons & Dragons 5E, the Cleric is a role that often centres around healing and destroying the restless undead. In D&D 5E, clerics gain their magical powers from the deity they worship, which can manifest in different ways depending on the god in question.
Featured in a bright ivory colour - though backers can get alternative colours if they wish - the Cleric Set are themed around the sort of equipment the more benevolent kind of cleric might use. The set's d4 is shaped like a war hammer, whilst the d6 is moulded in the shape of a mace and the d8 is intended to resemble a healing potion. The higher numbered dice - the d10, d12 and d20 - are shaped like a holy symbol, chalice and censer, used by holy people to burn incense.
Polyhero Dice is the company behind the Cleric Set, having previously launched Kickstarter campaigns for dice sets themed around the warrior class - which featured a spiked ball - the rogue class and wizard role, which included a d6 shaped like a fireball.
Tabletop Tycoon is the owner of Polyhero Dice, as well as board game publishers Starling Games - the studio responsible for the city-building game Everdell - Victory Point Games, which released the Jules Verne-inspired board game Nemo's War; Planetarium publisher Sparkworks; and Flying Meeple, a studio known for releasing children's games.
Earlier this week, The Dice Buffet - another company that produces specialised dice sets - announced that it would be selling a dice set containing real baked beans. The bean dice set is made from dried baked beans and follows other food themed sets made by the Etsy seller, including ones made from spaghetti hoops, candy corn and M&Ms.
The Kickstarter campaign for the Cleric Set is live until February 4th, with a pledge of $19 (£14) getting backers a single set that's estimated to arrive in December.