Dungeons & Dragons 5E's combat wheelchair now has some fantastic miniatures
Dungeons and Diversity models based on Sara Thompson's free rules.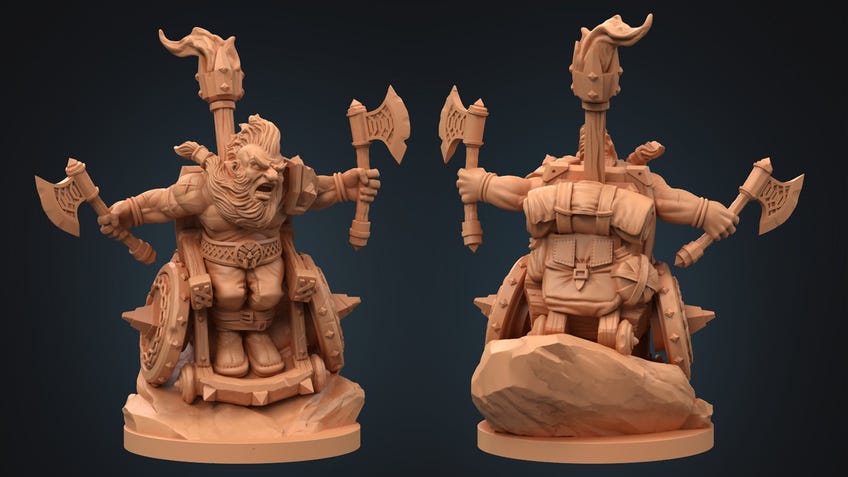 Miniatures based on the fan-made combat wheelchair rules for Dungeons & Dragons 5E have been announced, with a portion of proceeds going toward charity.
The Dungeons and Diversity miniatures are based on designer and modder Sara Thompson's homebrewed rules for a combat wheelchair in the RPG.
Thompson's rules, which feature detailed explanations of the wheelchair's use in both daily adventuring and combat, were originally released last month. The free supplement was recently updated to a version 2.0 featuring additional upgrades for the chair and additional information on how to include it in a D&D 5E session. The rules are available in book form, a version with dyslexic-friendly fonts and audio.
The Combat Wheelchair (v2.0) for 5e #dnd
New upgrades, cleaner rules, sleeker design, FAQs and more - and still completely free! You have access to a book and a dyslexic-friendly font version!https://t.co/MXnvh7Z13t#disability #dnd
(audio available soon)
Art: @claudiopozas pic.twitter.com/7UKsnnWJ30

— the dislocating GM combat wheelchair 2 in pinned (@mustangsart) August 7, 2020
Russ Charles, miniatures sculptor for Dark Souls: The Board Game studio Steamforged and co-creator of D&D 5E miniatures sets Cats & Catacombs and Dungeons & Doggies, as well as their tie-in RPG Animal Adventures, worked with Thompson to create four miniatures based on the rules.
The miniatures include a human druid, elf rogue, tiefling cleric and dwarf barbarian using the combat wheelchair, with the chair customised to suit each character.
The models are available as pre-made resin and metal figures from manufacturer Strata Miniatures, or as STL files for use with 3D printers. The physical models are £15 each, while the DIY option will cost you a fiver for the download.
EVERYONE CAN BE A HERO! @ThomasLishman & I are proud to have worked with @strataminis & @mustangsart to support her #CombatWheelchair rules & chosen charity https://t.co/quO4MK8RJo. 25% of every sale donated!
Minis at https://t.co/sQqAnQRoSb#Disability #ttrpg #dnd5e #inclusion pic.twitter.com/LpbBqTApKl

— Russ Charles (@russ_charles) August 15, 2020
25% of proceeds from the miniatures will go toward Ehlers-Danlos Support UK, a charity supporting those living with the titular group of 13 genetic conditions that affect the body's connective tissue.
The Dungeons and Diversity miniatures are available now as digital files, with the physical models due for release from September 21st.