D&D movie stars played the RPG together before filming Honor Among Thieves
And had a complete blast, by all accounts.
The cast of new Dungeons & Dragons movie Honor Among Thieves played a session of the tabletop RPG to help them get into character and bond before filming.
Wizards of the Coast's Sarra Scherb recalled how they ran a one-shot D&D 5E scenario for the actors two years ago in Ireland, the day before shooting started on the upcoming film. It also happened to be the first day that the cast had met in person, so the two-hour tabletop session was used as a bonding exercise.
The entire cast - with the exception of absent rogue Hugh Grant - turned up to play in-character as their party of on-screen heroes from Honor Among Thieves. That party, of course, includes Chris Pine's bard Edgin, Michelle Rodriquez's barbarian Holga, Sophia Lillis' druid Doric, Regé-Jean Page's paladin Xenk and Justice Smith's sorcerer Simon. (Scherb also co-designed the recent supplement adapting the Honor Among Thieves party for use as NPCs in D&D 5E.)
While the party lined up with what we'll see in the movie, Scherb's adventure didn't follow the plot of the film. Their scenario instead saw the party chased across a bottomless chasm by a sentient drilling machine.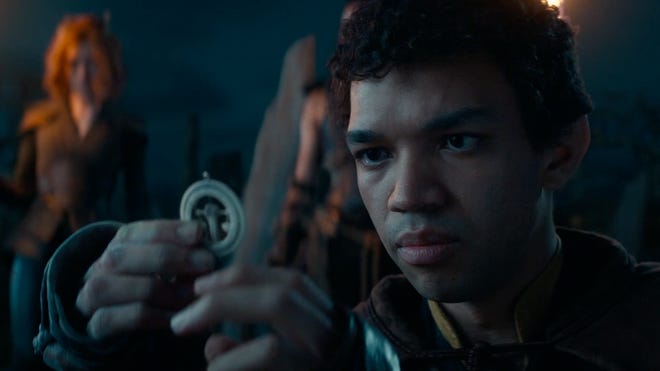 Scherb's recollection of the star-studded adventure during a press briefing for today's D&D Direct provided some enticing looks at how the cast gelled with the world and gameplay of the fantasy RPG.
Chris Pine was apparently converted to a "true believer" by his time with the RPG, going on to play D&D with his family. Meanwhile, Smith turned up to his Session 0 with Page having already rolled his own character sheet and expanded his character's on-screen backstory with additional headcanon. ("[Smith] had done some legwork," confirmed Wizards' senior creative director Jeremy Jarvis.) He appeared to have a complete blast playing too, being "the most high-energy person" and "jumping out of his seat" during the adventure, according to Scherb.
Although the session only lasted a couple of hours, the cast apparently wanted to continue beyond their professional obligation. Who knows - perhaps we'll see another Hollywood actual play series emerge in due time.