Stranger Things, Marvel and WWE stars are playing Dungeons & Dragons for Red Nose Day
D&D Live 2020: Roll w/ Advantage line-up includes actors, comedians and wrestlers.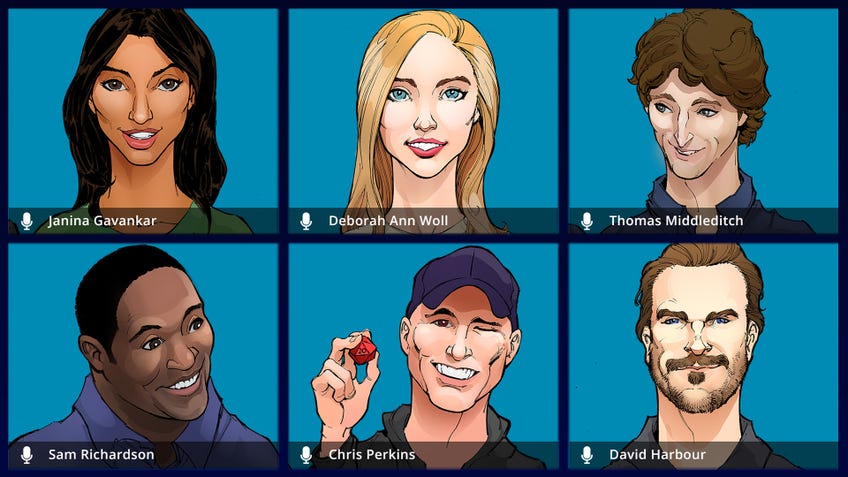 An all-star cast of celebrity players will be playing Dungeons & Dragons 5E next month in benefit of Red Nose Day.
This year's D&D Live 2020: Roll w/ Advantage event will include multiple sessions of the fantasy RPG featuring notable names from across the worlds of film, TV, comedy and wrestling.
Compared with previous D&D Live events, the three-day event will see its stars playing Dungeons & Dragons online via video call rather than on stage in person as the result of the current COVID-19 lockdown.
D&D Live 2020: Roll w/ Advantage starts on June 18th, with Dungeons & Dragons maker Wizards of the Coast teasing the reveal of new gameplay and upcoming tabletop RPG releases for the game.
After that, at 2pm PST on June 18th, True Blood and Daredevil star Deborah Ann Woll - who also hosts D&D web series Relics and Rarities - will run a game of Dungeons & Dragons for The Gifted and Person of Interest actress Amy Acker, fellow True Blood star Janina Gavankar, Matthew Lillard - known for films such as Without a Paddle, the live-action Scooby-Doo movies and his appearance in Twin Peaks: The Return - and Sam Richardson of Veep.
From 10am PST on June 19th, Dungeons & Dragons 5E's lead story designer Chris Perkins will DM a Red Nose Day game of D&D for Felicia Day, Stranger Things and Fleabag actor Brett Gelman, Maitreyi Ramakrishnan - the star of Netflix series Never Have I Ever - and Martin Starr, who has appeared in cult TV series Freaks and Geeks, HBO's Silicon Valley and Marvel movies Spider-Man: Homecoming and Spider-Man: Far From Home.
Later that day, at 2pm PST, a panel of actors and comedians including Thomas Middleditch - who won an Emmy for his lead performance in Silicon Valley - and The Big Bang Theory's Brian Posehn and Kevin Sussman, will play Dungeons & Dragons.
Perkins will DM another Dungeons & Dragons game at 10am PST on June 20th as part of charity initiative Lost Odyssey Heroes. (Dicebreaker previously appeared as part of Lost Odyssey's Champions stream playing RPG Quest earlier this year, which you can watch below.)
That session will feature David Harbour, known for Stranger Things and for being the latest actors to play comic-book hero Hellboy on the big screen, alongside Brandon Routh, who portrayed the titular superhero in Superman Returns, The Atom in DC Comics show Arrow and, most importantly, Evil Ex number three Todd Ingram in Scott Pilgrim vs. the World.
Finally, D&D Live 2020: Roll w/ Advantage will close out with a session of Dungeons & Dragons starring various WWE superstars from the world of wrestling. Alexa Bliss, Tyler Breeze, Dio Maddin, Ember Moon and The New Day's Xavier Woods will be DM'd by Dungeons & Dragons 5E lead rules designer and DM of popular D&D web series Acquisitions Incorporated Jeremy Crawford from 2pm PST.
Guardians of the Galaxy and Doctor Who star Karen Gillan makes an appearance in the D&D Live 2020 trailer and is said to be participating in the event, but appears to be absent from the current Roll w/Advantage schedule - making it unclear as to which session she will be part of.
Wizards of the Coast has said that all proceeds from D&D Live 2020: Roll w/Advantage will go towards Red Nose Day. Players can pay $10 or more to register for the event and play four short scenarios from the D&D Adventurers League.
As well as the celebrity sessions of Dungeons & Dragons, the publisher has released a new Dungeons & Dragons 5E adventure, Return to the Glory, via The Dungeon Masters Guild. The scenario is designed for orc characters from levels six to eight.
D&D Live 2020 is the latest star-studded Dungeons & Dragons event held for charity, following this month's Comic Relief D&D game starring UK comedians Nish Kumar, Sue Perkins, Ed Gamble, Paul Foxcroft and Sara Pascoe.