Watch Stranger Things stars play a holiday-themed Dungeons & Dragons adventure this Friday
The Upside Drow.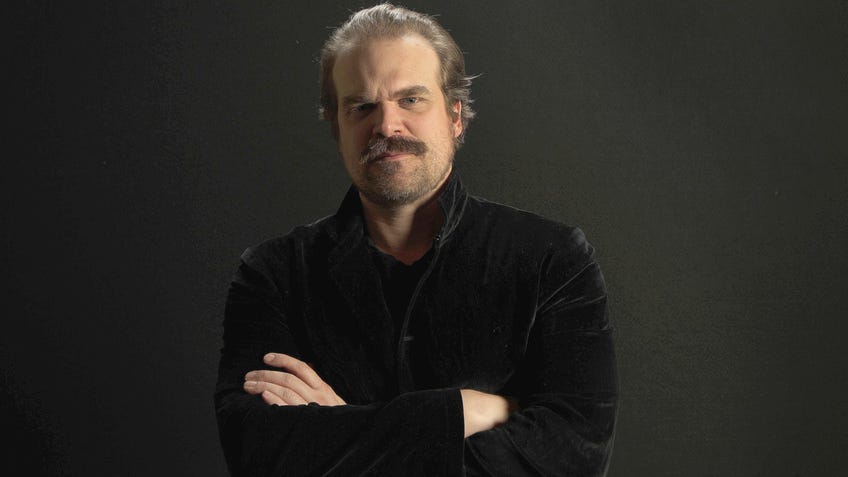 Stars of the popular Netflix series Stranger Things are teaming up to form a party of heroes in an upcoming festive playthrough of Dungeons & Dragons airing later this week.
One-shot adventure Lost Odyssey: Toy Time for Ten-Towns will be hosted by Chris Perkins, principle story designer for D&D 5E, and will include the likes of David Harbour - who played the drunken chief of Hawkins Police, Jim Hopper - Finn Wolfhard (Mike Wheeler), Gaten Matarazzo (Dustin Henderson) and Natalia Dyer, the actor behind the character Nancy Wheeler.
In a trailer released for the roleplaying show, Harbour addresses the other party members as Sylvester (Wolfhard), Meryl (Matarazzo) and Jinx (Dyer) and asks them whether they are "ready to save Christmas". The one-shot will be shot using a Solo Cinebot, a robotic camera that will allow the show to be filmed in "cinematic quality" via a remote ream of directors and producers, ensuring that people can socially distance themselves during the session.
The cast of Stranger Things played a DnD one shot and you get to watch the whole thing in 3 days. #StrangerThingsDnD pic.twitter.com/jscYPfzpRt

— NX (@NXOnNetflix) December 15, 2020
The first season of Stranger Things aired in 2016 and followed the story of a group of young people living in a suburban town called Hawkins. Set during the 1980s, the series features a mysterious alternate dimension, The Upside Down, populated by disturbing creatures that threaten the safety of Hawkins' residents. Taking place over the course of three seasons, the storyline of Stranger Things references Dungeons & Dragons multiple times, with several of its key characters seen playing the fantasy RPG together.
A starter set inspired by Stranger Things was released for D&D 5E last year, with players having the option to control the characters created by the kids in the Netflix series. Aside from an adventure book that followed the antics of a dangerous demogorgon, the Stranger Things D&D Starter Set also included the basic rules for the roleplaying game; character sheets and a demogorgon miniature.
The announcement of the Stranger Things actual play show follows yesterday's reveal that Chris Pine - known for his roles in Star Trek and Wonder Woman - is in talks to star in the upcoming Dungeons & Dragons film. Set to release on May 27th 2022, the film will be written and directed by Game Night directors Jonathan Goldstein and John Francis and produced by Jeremy Latcham, who has previously worked on several Marvel films.
Lost Odyssey: Toy Time for Ten-Towns is set to air on the Stranger Things YouTube channel on December 18th at 10am PT and 6pm GMT.