Anachrony and Kitchen Rush designer's next board game Excavation Earth sees extraterrestrials selling human garbage as art
One man's trash is another alien's treasure.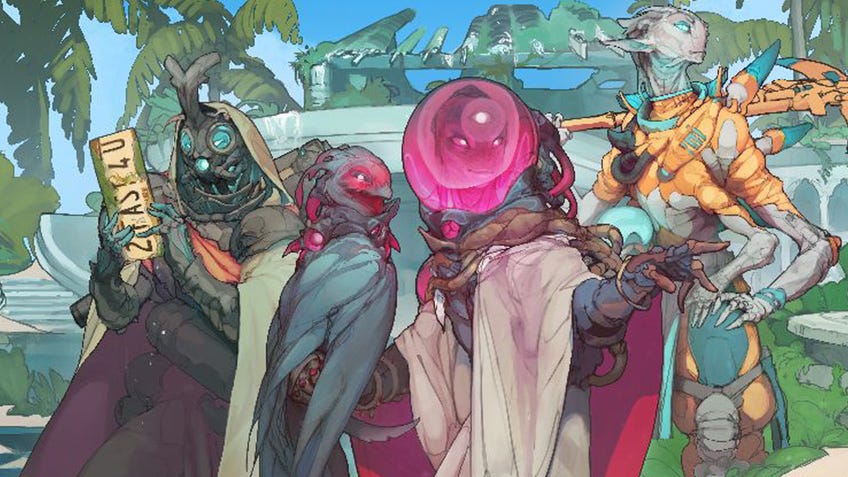 Travel to a long-abandoned Earth in search of rare human artefacts before attempting to make a profit on the alien art market in Excavation Earth, the next board game from Anachrony and Kitchen Rush designer Dávid Turczi.
In Excavation Earth, players assume the role of aliens with an eye for expensive human treasures on a quest to obtain the most wealth possible. Earth may no longer be populated by humans, but their artefacts still remain and can fetch a high price in the right markets - but players will have to choose the right time and place to sell their goods if they want to strike big.
A board game for two to four players, Excavation Earth has a ruleset that can be learnt in under ten minutes, according to the game's Kickstarter, and begins with players choosing from a variety of alien races, each with their own unique ability. Players then draft a hand of action and fuel cards that enable them to move and perform actions. Across Earth are excavation sites that each contain a different coloured set of artefacts players can pick up, and markets containing a random group of buyers.
The colour of each alien buyer determines which kind of artifact they're interested in purchasing. For example, orange-coloured buyers are looking for orange artefacts, whereas white-coloured buyers are interested in any type. With players able to control multiple explorers during their turn, they can acquire artefacts and sell them at market without moving their standee.
Certain colours of artefacts are more popular than others, so choosing where to excavate and which markets to sell at is important. If players acquire an artefact that is not popular, they can choose to attempt to smuggle it into the black market in the hopes of making a larger profit.
Whichever player ends the game with the most credit tokens becomes the winner.
As well as Turczi, Excavation Earth was co-created by Wai Yee, co-designer on co-op board game Pocket Dragon, and Gorden Calleja, the creator of Vengeance and survival board game Posthuman Saga.
Excavation Earth is being published by Mighty Boards, the company behind nature manipulation game Petrichor - which has a solo board game version designed by Turczi - and the original Posthuman.
A one to two-player board game version of Excavation Earth will be released to backers once the Kickstarter has ended, with several other titles by Mighty Boards available to download as print-and-play games throughout the campaign.
The Kickstarter for Excavation Earth is live until April 29th, with a pledge of $50 (£41) getting a copy of the core board game. It's estimated to arrive sometime in November 2020.