Netflix show based on the Exploding Kittens card game is getting turned into a card game
IP loops into IP.
The upcoming Exploding Kittens Netflix television show is getting adapted into a card game.
The original Exploding Kittens card game sees up to five players taking turns to draw cards until someone draws an exploding kitten card, which causes them to immediately lose the game. Players can force their opponents to draw cards by playing certain cards, with other cards enabling the player to peek at upcoming cards, shuffle the deck or even prevent themselves from losing by defusing the exploding kitten before it goes off. There have been multiple spin-offs based on the original game, including a version featuring zombies and a game for two-players.
Exploding Kittens: Good vs. Evil is a card game based on the new Netflix series, which is in itself an adaptation of the original Exploding Kittens game. The Netflix show was initially announced back in 2022 as being an adult animated series co-starring Tom Ellis – known for Lucifer – and Lucy Lui (Shazam, Elementary), alongside Abraham Lim (The Boys), Ally Maki (Toy Story 4), Mark Proksch (Better Call Saul) and Sasheer Zamata (Home Economics).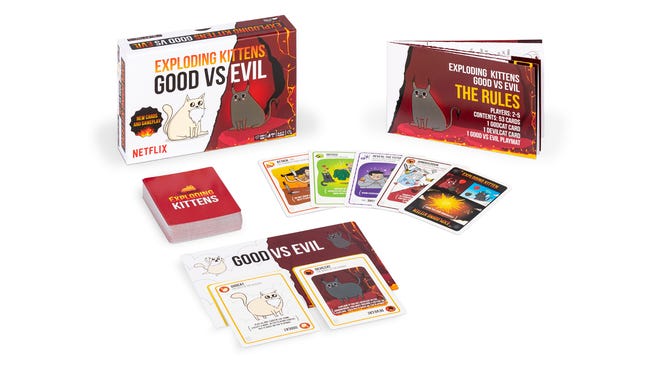 In the show, God and the Devil are forced to reside on Earth as two housecats living together under the same roof. The Exploding Kittens series was co-produced by Shane Kosakowski – who has previously worked on the likes of You're the Worst and The Muppets (2015) - and the designer of the original card game Matthew Inman, who is also listed as the show's writer. Exploding Kittens co-creator Elan Lee is one of the series' executive producers.
The upcoming game will feature roughly the same gameplay mechanics as the original Exploding Kittens but featuring characters and artwork directly from the Netflix show.
Wheels recommends a collection of the best party board games to share with the group.
Included in the collection of new character cards will be the Godcat card, which Exploding Kittens's publisher calls "the most powerful card ever created," for the party game. Another new card will be Devilcat, which causes the player to immediately explode, regardless of whether they have a defuse card or not. Additional cards include Armageddon and Raising Heck, which will introduce new mechanics to Exploding Kittens.
Exploding Kittens: Good vs. Evil is available at a retail price of $22 (£17) at Walmart, Target and the Exploding Kittens online store.