Oh no, there's a Minions version of Exploding Kittens
Deck-spicable Me.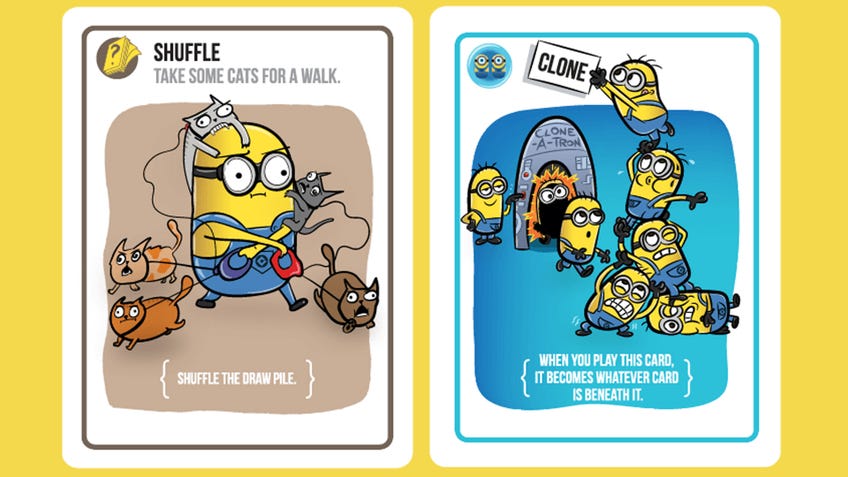 Exploding Kittens is crossing over with Despicable Me's Minions in a new version of the party card game called exactly what you'd expect.
Exploding Minions borrows Kittens' Russian Roulette-inspired gameplay, which sees players draw cards and avoid any volatile felines that come their way, hoping to be the last person left in. Players take it in turns to draw a card from a central deck, using the cards in their hand to peek at the deck, force other players to draw, defuse exploding kitten cards and otherwise survive as long as they can.
The Minions spin on the party game introduces new clone cards, which repeat the effect of the last card played. Otherwise, it's essentially the same game as Exploding Kittens, but with Despicable Me's nonsense-spewing yellow bean people(?) replacing the cartoon cats. You can watch Russell Brand - the voice of Despicable Me's Dr. Nefario - somehow take six minutes to explain the incredibly simple game in the video below.
Exploding Minions is the first time Exploding Kittens - created by former Xbox video game designer Elan Lee and The Oatmeal cartoonist Matthew Inman - has spun out into a licensed game. Inman once again provides the artwork for the game, drawing the Minions in the distinctive style of the Oatmeal webcomic.
Exploding Kittens launched on Kickstarter in early 2015 and became one of the crowdfunding platform's earliest success stories, raising more than $8.7m. While that total has since been surpassed by board games such as Frosthaven, Exploding Kittens remains the most-backed Kickstarter project of any kind, with over 219,000 backers. The series has sold more than 15 million copies to date, according to its creators, with Lee and Inman going on to release other party games such as Throw Throw Burrito, Bears vs Babies, A Game of Cat and Mouth, and You've Got Crabs.
Since they first appeared in Despicable Me, the Minions have appeared in the animated film series' various sequels, shorts and even in their own feature-length spin-off film, which will get its own sequel, Minions: The Rise of Gru, next summer.
Exploding Minions costs £15/$20, and is available to buy via Exploding Kittens' online store for those in the UK, as well as in Target stores in the US. The game is set to arrive in fellow US chain Walmart later in the summer.
Want to know more about the original game? Head over to our page that shows you how to play Exploding Kittens to learn more!