Power Grid creator's Faiyum is a deckbuilding game where players only draw from their discard pile
Pharaoh play.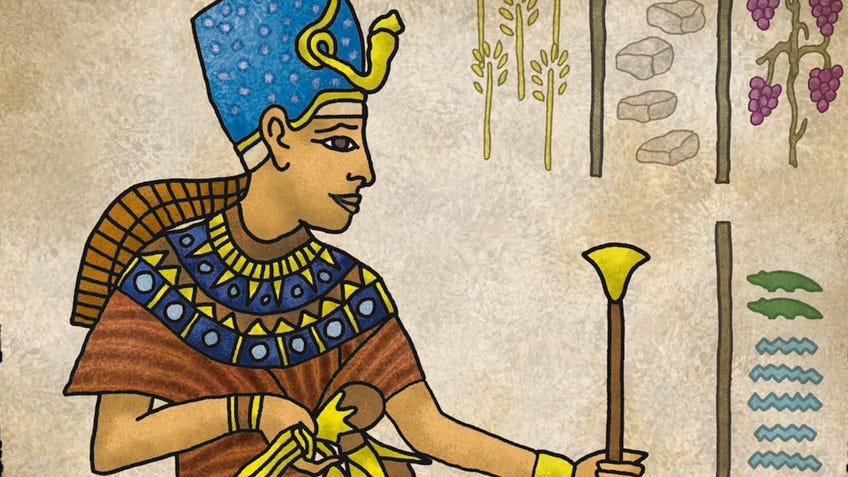 Become the pharaoh's most trusted advisor in Faiyum, an upcoming board game from the designer of Power Grid that sees players build their hand with cards from their discard pile.
Set 3,900 years in the past, Faiyum has players assuming the role of advisors to the ancient Egyptian pharaoh, Amenemhet III. Throughout the game, players can perform actions that will put them in the pharaoh's favour and gain them the funds they need to further their plans. By playing their cards in the right order, players can ensure that - on their next turn - they'll be able to draw exactly the cards they want from their discard pile. (Thanks, BoardGameGeek.)
At one point in history, the lands around the Nile were covered in swamps that prevented the people from growing crops there. However, when a channel connecting to the Nile was widened, the water from these swamplands eventually drained away enough to enable farmland to be cultivated. Now, the pharaoh has tasked players with successfully developing these new lands by clearing out the crocodiles that bask there, hiring workers and collecting resources.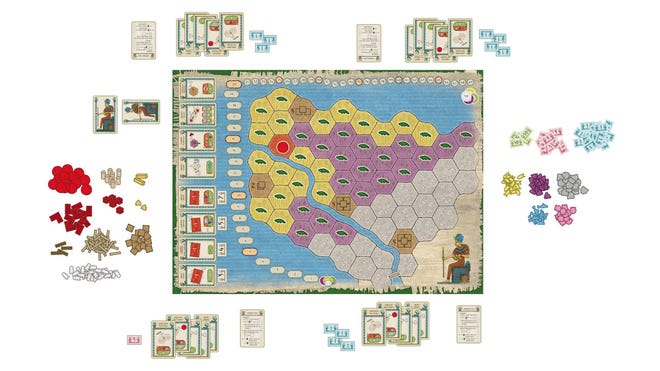 Players will need to build various settlements, towns and roads for the citizens living there. As the pharaoh lays claim to all property in Egypt, besides player resources and money, advisors do not have ownership over these constructions - which means that all their opponents will be able to benefit from them as well.
Throughout the deckbuilding game, players will take turns to play cards from their hand in order to perform actions or acquire funds. If players want to refresh their hand, they can use their turn to take the top three cards from their discard pile. Alternatively, players can purchase cards from the shared market and place them directly into their hand - ready to be played on their next turn.
Whichever player has the greatest amount of reputation by the end of the game earns the pharaoh's pride and wins the game.
Faiyum was designed by Friedemann Friese, creator of acclaimed auction game Power Grid - where players attempt to supply as many cities with power as possible - solo board game Friday and Fabled Fruit, a card game where the rules and mechanics change over the course of a single playthrough.
Publisher 2F-Spiele will release Faiyum during next month's Spiel.Digital, the virtual tabletop convention taking place between the 22nd and 25th October in place of board game trade fair Essen Spiel 2020 - which was cancelled earlier this year due to the COVID-19 pandemic.