Fate Condensed is a streamlined version of the classic tabletop RPG
Pocket universes.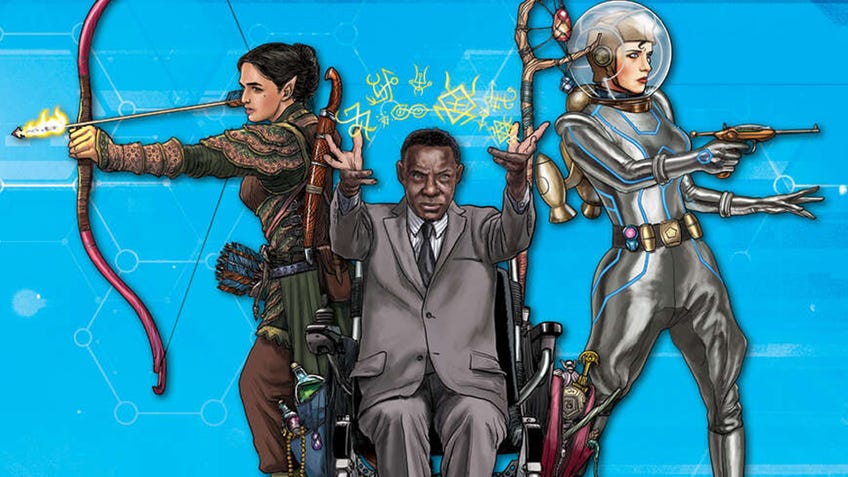 Get to grips with a new system in just 60 pages with Fate Condensed, a shorter and more straightforward version of the tabletop roleplaying game Fate Core.
This standalone TRPG rulebook is designed to help fresh-faced players understand how to play Fate Core in a more streamlined fashion. By cutting away some of the denser aspects of the game, Fate Condensed aims to provide a more digestible version of the original - reducing the length of the book to 60 concise pages that outline the rules in an accessible manner.
Besides the smaller size and cleaner layout, Fate Condensed also introduces a number of small changes to make the RPG run smoother and faster. These alterations include reducing the number of stress boxes to hold just one point - rather than the multiple point system of the original - and changing the turn order to be decided via the story, rather than the game's skill system. Fate Condensed also no longer includes significant milestones to decide player advancement, instead having this aspect be driven entirely by more developed major milestones.
On top of these changes, Fate Condensed also features fourteen pages of options intended to help game masters and players make their own rules-light games. These options include rules for controlling the scale of the adventure, for establishing consequences and even ways to increase the threat of villains.
Fate Core - the original version of the roleplaying game - is a flexible RPG that enables GMs and players to create narratives based on any setting they like. These settings can include existing pieces of media, such as a book series; film franchise; graphic novel or video game, or entirely new universes created by the GM. Fate Core was awarded a Gold Ennie Award for Best Game and Best Rules, as well as a Silver Ennie Award for Best Product of the Year, back in 2013.
The designers behind Fate Core are Leonard Balsera, Brian Engard, Jeremy Keller, Ryan Macklin and Mike Olson. Both Fate Core and its streamlined version, Fate Condensed, are published by Evil Hat Productions - the company behind the fantasy roleplaying game Band of Blades and horror RPG Monster of the Week.
Fate Condensed:
We've taken a decade of play and development and tightened everything down to a sleek 60 pages.
Print version coming later this fall but you can grab this ideal Fate rules reference as a #PayWhatYouWant PDF right now: https://t.co/PmyewwjP64 pic.twitter.com/sK0bXqG0lr

— Evil Hat Productions (@EvilHatOfficial) August 19, 2020
Fate Condensed isn't the first simplified version of the original Fate Core, as Evil Hat Productions previously released a more family-friendly edition of the RPG called Fate Accelerated - which was awarded a Gold Ennie for Best Family Game in 2014.
Interested players and GMs can currently download the PDF for Fate Condensed from DriveThruRPG at a publisher suggested price of $4 (£3).