Firefly board game is getting a seriously fancy, seriously hefty collector's edition for its 10th anniversary
Massive box includes everything ever made for the game, plus a new expansion and upgraded components.
The Firefly board game is marking its 10th anniversary with a collector's edition that packs in everything ever released for the board game, plus a new expansion and some fancy upgrades to its components.
The Collector's Edition includes the original Firefly: The Game, along with every one of the expansions released for the 2013 spin-off from the short-lived and much-loved space-western TV series. For those keeping count, that's Blue Sun, Kalidasa, Crime & Punishment, Pirates & Bounty Hunters, Breakin' Atmo, Jetwash, Esmeralda and Artful Dodger - a mixture of additional ships, star systems, contacts, cards and gameplay elements.
As well as all the past expansions for the game and every promo card released, the upcoming release will also include a brand new expansion, Still Flying, that includes Monty's Restless Sole ship, capers and job cards.
The anniversary release also swaps out the original board game's standard pieces for some deluxe components, most notably 15 hand-painted resin ship miniatures to represent the vessels flying around the system. That whole damn 'verse is depicted on a new neoprene mat, with custom ship dice also among the upgrades.
To store the whole lot - which comes to a whopping total of over 1,000 cards - the game's enormous cargo box includes eight storage trays to keep everything in order.
Firefly: The Game tasks players with commandeering one of the series' familiar ships - whether the Serenity, Jetwash or something else - and flying around the galaxy to recruit crew members and complete jobs, dealing with the patrols, Reavers and double-crossing contacts they meet along the way. Completing jobs earns cash, with the choice to take on risky illegal cargo to earn big - or end up being confiscated if you're caught. The game's open-ended structure sees players racing to be the first to complete the objectives set by one of 23 possible story cards, which add variety to each playthrough's setup and goals.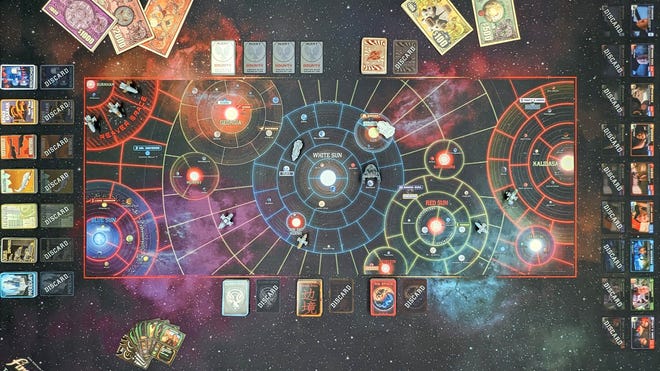 Publisher Gale Force Nine said that the Gamefound crowdfunding campaign for Firefly: The Game's 10th Anniversary Collector's Edition will be the only way to get the big box, with no plans to reprint it in the future.
The set costs $220, with a separate upgrade kit - which doesn't include the base game, expansions or big money components - for existing owners setting you back $130. The campaign will return until July 6th, with the collector's edition planned to arrive with backers next January.