PC survival game Frostpunk is getting a board game from Nemesis designer
Shivering with anticipation.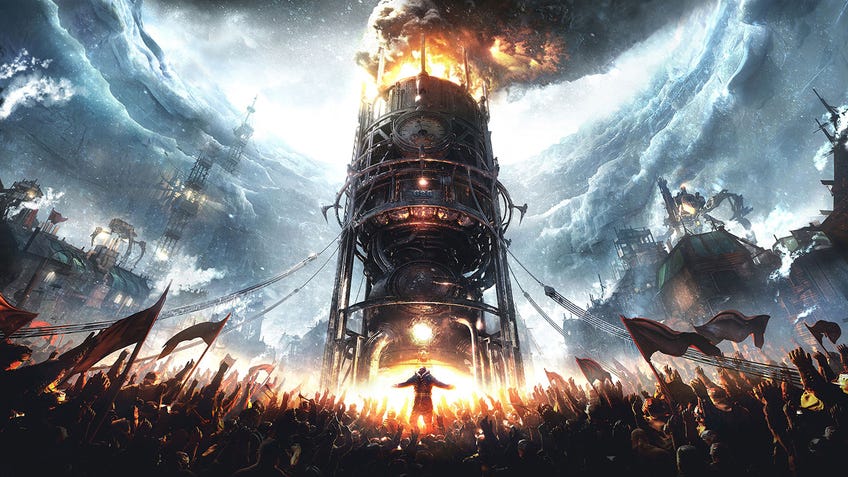 Lead the last surviving city on Earth in Frostpunk: The Board Game, an upcoming tabletop adaptation of the acclaimed PC game from the designer of Nemesis.
The original Frostpunk is a post-apocalyptic city-builder from 11 Bit Studios, the developer behind gritty survival title This War of Mine, which was also previously adapted into a video game board game. In Frostpunk, the player finds themselves in charge of what might be the only remaining collection of human beings in the world after a devastating environmental disaster wipes out most of civilisation.
Clinging to life in a frozen landscape during the late 19th century, the player can choose to play one of several storylines in which they manage the city of London and decide how its people are going to respond to new challenges. From social and political uprisings to food shortages and an incoming storm that has the potential to finish London off for good, the player must confront tough situation after situation in an attempt to keep their people alive. Throughout the video game, the player must assign their workers to different tasks in order to get as much done as possible in the limited time they have.
These gameplay mechanics will seemingly be translated into the upcoming board game adaptation of Frostpunk, with players having to work together to decide how the city can make the best of an otherwise hopeless situation. The co-op board game will not only see players needing to efficiently manage their various workforces, but will also push them into making some tricky decisions regarding the future of their city - if it lasts long enough.
The board game's gameplay has been designed by Adam Kwapi?ski, known for horror game Nemesis - which is seeing a standalone sequel in the upcoming Nemesis: Lockdown - and mythical Greek adventure game Lords of Hellas. Contributing Frostpunk: The Board Game's story is Jakub Wi?niewski, who co-created the tabletop adaptation of This War of Mine.
Frostpunk: The Board Game is being published in a collaboration between 11 Bit Studios and newly founded tabletop studio Glass Cannon Unplugged, said to be formed of "industry veterans" from the world of board games.
A Kickstarter campaign for Frostpunk: The Board Game is due to launch sometime this autumn, with a release date yet to be announced.