Classic horror board game Fury of Dracula sinks its fangs into PC today
Transform into Steam.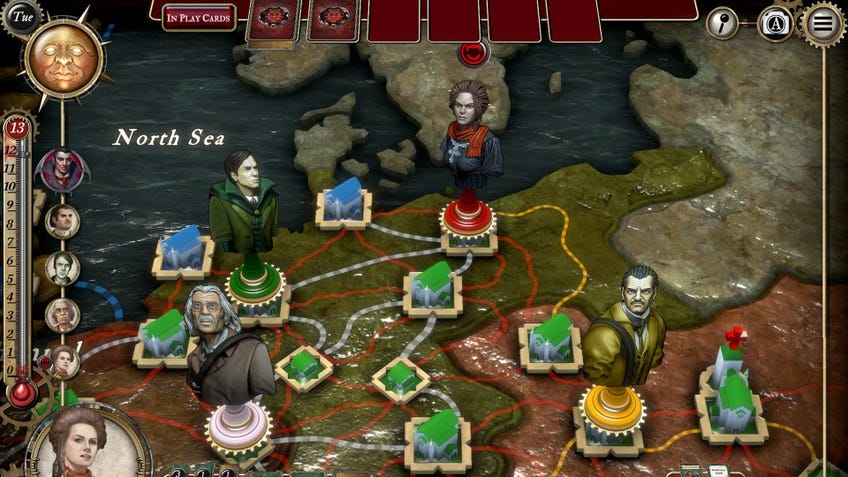 Fury of Dracula, the horror board game based on the classic vampire novel, is winging its way onto PC today.
First released in the late eighties by Games Workshop, Fury of Dracula is set after the events of Bram Stoker's book and sees Van Helsing, Dr. John Seward, Lord Arthur Godalming and Mina Harker chasing down the bloodsucking count as he travels across Europe, transforming citizens into denizens of the night.
The asymmetrical game sees one player control Dracula as he moves secretly around the board, placing location cards to track his movement and laying traps - from swarms of bats and packs of wolves to newly turned vampires. Meanwhile, the human pursuers can only travel by carriage, train or boat during the day, stocking up on equipment and tracing the count's trail before eventually confronting him in combat.
Fury of Dracula's digital version recreates the latest fourth edition of the board game, adding online multiplayer - although it's worth nothing that only two players are currently supported, rather than the full table of five - animations, music and other effects. Players can also face each other in local multiplayer or go up against the AI. While online matches can only be played in a head-to-head mode, up to five people can play together over the internet by using Steam's Remote Play Together feature as a workaround.
Originally announced in January by developer Nomad Games, Fury of Dracula's release on PC was delayed by two weeks from its planned launch on October 29th to today, November 12th, in order for the studio to improve the experience.
"Sadly we've decided that we're not happy to release the game in its current state," Nomad said at the time of the delay. "Fury of Dracula: Digital Edition is finished both content and gameplay-wise. However, we're still working to make the tutorials the best we can for new players. We're ironing out bugs in order to make sure that the game is a smooth, polished experience when you finally get your hands on it. We're also polishing up the online experience."
Fury of Dracula is out now on PC via Steam. It's currently available for 10% off as part of a launch discount, reduced from the usual price of £15.49 to £13.94 until November 19th.